Mercedes-Benz GL63 AMG Will Have 550-HP and AWD
Mercedes-Benz will build an AMG version of the GL-Class SUV for 2013. The 2013 Mercedes-Benz GL63 AMG will have 550-horsepower and all-wheel drive, making it one of the fastest all-weather SUVs you can buy and giving your grocery getter enough oomph to chase down super cars.
The GL63 AMG will be powered by a twin turbocharged 5.5-liter V8 engine with 550-hp and 560 lb-ft of torque. Mercedes claims that the GL63 AMG will do 0-60-mph in 4.9 seconds and will be electronically limited at 155-mph (and you'd have to be crazy/ stupid/ awesome-and-I-want-to-come-along to try to go any faster in an SUV). The GL63 AMG won't be all bite and no bark, it will have wider fenders, large air intakes and 21-inch wheels to let you know it means business.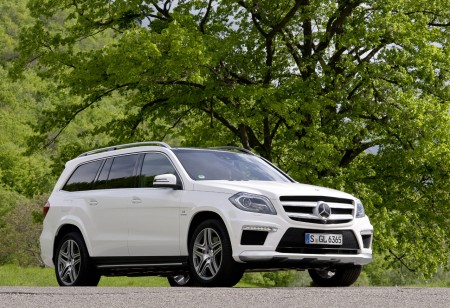 Mercedes already has a twin-turbo V8-powered GL class if you have only have midgrade gasoline in your veins instead of high test. The GL550 is powered by a 4.7-liter twin-turbo V8 with 429-hp. Since the pricing on the GL63 AMG has yet to be announced, we don't yet know how much of a bargain the $85,300 GL550 is compared to the GL63 AMG, so we can't speak as to how much manliness you'll lose by not picking the AMG version. The ML63 AMG with a 518-hp version of the GL63's engine starts at $94,990, while the ML550 starts at $57,590. If the GL63 has the same premium over the GL550, the price would be around $123,000.
Source: Autoweek.
Image via Truth About Cars.