Volkswagen Continues Zero Percent Car Loan Rates on 2010 Vehicles in January
Volkswagen's January new car incentives are not as attractive as what has been offered the past few months. The sign then drive lease deal is over, as well as tax credits for TDI models. Volkswagen isn't offering 1.99 percent auto loan rates on its certified pre-owned vehicles this month either.
But, VW is featuring low auto loan rates and discounted leases on select models in January.
Volkswagen is offering 0 percent car loan rates for a lengthy 72 months on the 2010 New Beetle, New Beetle Convertible and Eos in January. For 60 months, the 2010 Routan, Jetta, Tiguan, GTI, Touareg, Golf, Passat Sedan, Passat Wagon, CC and Jetta SportWagen are 0 percent.
Most new 2011 VW models are available with low car loan rates of 0.9, 1.9 or 2.9 percent for 60 months in January.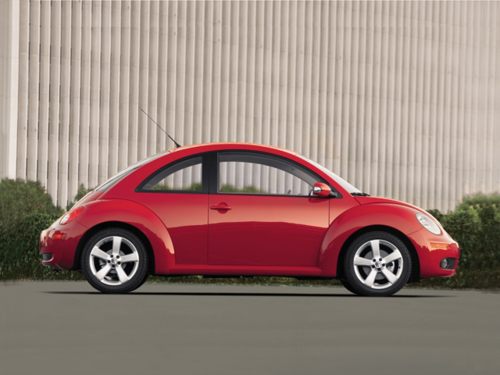 The 2010 VW New Beetle has a 0% auto loan deal for up to a whopping 72 months in January.
Volkswagen is offering nine lease incentives in January, all of which are 36 months long. Shoppers can lease the 2011 Jetta and Golf for less than $200 a month. In the $200 to $300 a month range, the 2011 CC, Tiguan, GTI, Jetta SportWagen and Routan are available. The 2011 Touareg and Eos can be leased for more than $300 a month in January. You'll need between $2,000 and $3,000 at lease signing, depending on the vehicle.
Incentives listed are for the southeast region. They may differ depending on where you live. Check Volkswagen's site to find the incentives in your area.