Vouchers Will Let Buyers Trade-in Clunker and Take New Car Home Later
Well, that was fast. Earlier this week, Rep. Candice Miller, R-Mich., and Rep. Fred Upton, R-Mich., sent a letter to Ray LaHood, Secretary of Transportation, asking him to consider allowing cash for clunkers car shoppers to use vouchers to order cars from auto manufacturers, finalizing the sale after the car arrives.
On Thursday, the Obama administration said it would allow car shoppers to order new vehicles that dealers don't have in stock using a voucher. This will allow consumers to take advantage of the $3,500 to $4,500 CARS rebate and get the exact car they want when it comes from the manufacturer.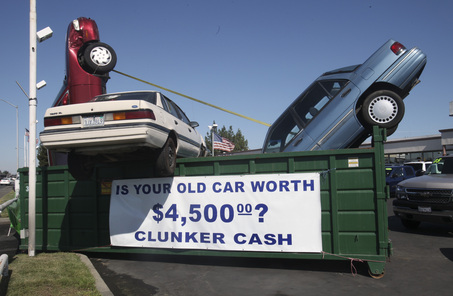 Because of the popularity of the cash for clunkers program, dealers said they were running out of inventory that qualified to be purchased under the government rebate program.
The Obama administration also tried to reassure dealers who say the government isn't reimbursing them on time, The Wall Street Journal reports.
The Transportation Department said Thursday that consumers who want to purchase a new car not yet on the lot at a dealership can still take advantage of the CARS rebate but wait for their new car to arrive from the factory. Transportation Secretary Ray LaHood said the changes will expand buyers' choices and keep production lines running, USA Today reports. He said it is a "wildly successful program."
If you're considering trading in your clunker for a new vehicle through the CARS program, be sure to visit the official Web site at Cars.gov frequently, as the rules have changed several times already.
Image: AP Photo/Rich Pedroncelli, via blog.nj.com.