What's Hot at the 2010 New York Auto Show
If you aren't able to make it to New York for the New York International Auto Show this weekend, The New York Times has compiled a list of the hottest vehicles there.
As April begins, automakers are hopeful the industry will continue its rebound. March sales figures announced yesterday reflect how much of an impact generous incentives can have on potential car buyers. U.S. automakers were up 24 percent overall in March, with some seeing an increase of more than 40 percent compared to the same month a year ago.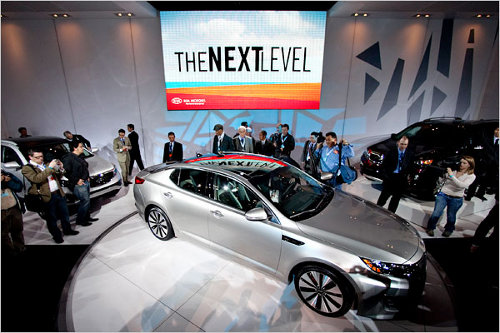 Although the job market hasn't rebounded yet, consumers seem more comfortable buying a new or used vehicle and taking on new debt, like a car loan or lease payment. For those consumers who are considering buying a vehicle in April, auto shows like the one in New York can help them see what is on the market right now.
Featured vehicles include new and redesigned versions from a variety of different automakers. The New York Times looked at the Porsche Cayenne S Hybrid, Kia Optima, Acura TSX Sport Wagon, Nissan Leaf electric car, Scion iQ subcompact, BMW 335is, Mazda 2 subcompact, BMW 5 Series, Volvo S60 and Subaru WRX STI sedan.
If any of the vehicles featured strike your fancy, visit the automaker's Web site for more information, as some of these vehicles aren't available yet, but will be soon.
Click here for The NY Times' slideshow.
Image by Daniel Acker, Bloomberg, via The NY Times.