100,000 Potential Car Shoppers Delaying Purchase
In the past few weeks, about 100,000 potential car buyers have been shopping and looking, but have yet to sign on the dotted line and follow through with a purchase, according to Edmunds.com.
"There has been a recent surge of purchase intent that has not translated into sales," Edmunds.com Senior Analyst David Tompkins, Ph.D., told AutoObserver.com. "Given that these 100,000 shoppers represent about 10 percent of monthly sales, automakers and dealers should find a way to capitalize on the opportunity and entice these folks to actually buy."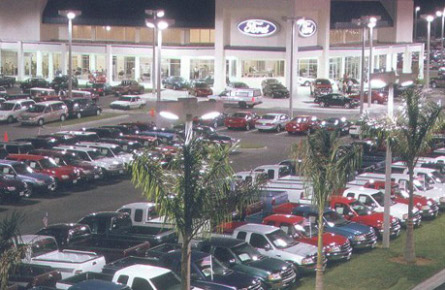 Cars, trucks and SUVs sit on a Ford dealer's lot, waiting for shoppers to take them home.
Edmunds.com attributes consumers waiting to buy a vehicle to the down economy and consumers who are keeping their vehicles longer.
"There is a strong correlation with the weakened economy," Tompkins said in a statement. "The average trade-in mileage has increased at a pace similar to national unemployment rates."
We reported in April that shoppers aren't buying because they think they won't be approved for a car loan. Car shoppers with the credit history and FICO score that would qualify under even stricter auto loan application standards are not applying for an auto loan. These consumers have cost the auto industry more than 800,000 sales in the first quarter of 2009, according to data from CNW Research.
Whether it's the down economy, unemployment, fear of car loan rejection, underestimating one's creditworthiness or waiting for the CARS (Cash for Clunkers) program to start Friday, consumers just aren't buying vehicles like they did in the past.
Image via ridelust.com.