2011 Hyundai Equus Named April Car of the Month by NADAguides
The 2011 Hyundai Equus was named April "Car of the Month" by NADAguides, whose website provides vehicle pricing and information.
"Without a benchmark, what Hyundai could produce for the upper-luxury market was a mystery," said Troy Snyder, director of product development at NADAguides. "What Hyundai has created with the Equus is the most distinguished, fulfilling and desirable luxury vehicle we have driven. The quality and care taken to produce even the simplest of switches and knobs is more than required. The Equus is undoubtedly the most elegant and gratifying luxury vehicle available under $65k."
The luxury sedan was praised for its interior styling, comfort, top-end luxury features, smooth performance and power and overall quality of engineering.
The 2011 Hyundai Equus starts at $58,000 for the Signature base model, and goes up to $64,500 for the Ultimate model. It comes standard with a five-year, 60,000 mile basic and 10-year, 100,000 mile powertrain warranty. The Hyundai Equus also comes with an Apple iPad as its owner's manual.
"Hyundai's flagship Equus sedan features numerous luxury features typically found in vehicles costing thousands of dollars more," said Mike O'Brien, vice president, product and corporate planning, Hyundai Motor America. "Equus customers have an ownership experience unlike any other, with the industry's first at-home vehicle demonstration program, 'Your Time, Your Place' and Valet Service program. Being named NADAguides Car of the Month is another example of how the Equus is redefining intelligent luxury."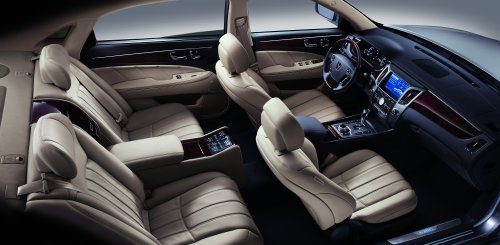 The 2011 Hyundai Equus features a 378 horsepower 4.6 liter V8 engine. It features smart cruise control, a lane departure warning system, nine airbags and a parking guide system. Options and features include a Lexicon sound system with 17 speakers, Bluetooth, forward and rearview cameras, air quality system, heated and cooled leather seats, massaging seats, reclining rear seat, compartment refrigerator, entertainment system with 8-inch screen, rear side-window sunshades, HID headlamps and rain-sensing windshield wipers.
In April, the 2011 Hyundai Equus can be leased for $739 a month for 36 months with $4,999 due at lease signing. The Equus can be purchased with 0.9 percent auto loan financing for 36 months, 1.9 percent for 48 months, 2.9 percent for 60 months or 3.9 percent for 72 months. Current Hyundai owners can take an extra $1,000 off a new Equus in April.