New Hyundai Equus Comes With Big Price and Big Perks
Hyundai announced pricing for its new Equus luxury sedan today, and for the price, it comes with some equally luxurious perks. The Equus Signature will cost $58,000, while a top-of-the-line Equus Ultimate will cost $64,500, not including a $900 freight charge. The 2011 Equus will arrive at select Hyundai dealerships in December.
For the price of a house in some Midwest cities, you'll get five years or 60,000 miles worth of free maintenance. Hyundai's "At Your Service" plan covers oil and filter changes, brake pads and rotors, wiper blades and the battery. If you need to take your Equus in for service, valet pickup and drop-off is provided for all warranty, maintenance and service repairs. Hyundai will also give you a Genesis or Equus loaner car while your Equus is at the dealership. The Equus' owner's manual is pre-loaded on an Apple iPad, which also comes with the car.
"We're confident that smart luxury buyers will discover that Equus competes well with similar flagship products from Mercedes-Benz, BMW, Audi and Lexus," said John Krafcik, Hyundai Motor America president and CEO. "But the traditional luxury brands simply can't compete with the unique retail and ownership experience we'll be providing for the Equus owner, including "Your Time, Your Place," the industry's first at-home vehicle demonstration program; the "At Your Service" program, which provides complimentary valet at-home pickup and no-charge maintenance for five years or 60,000 miles; and the industry's first iPad-based interactive owner's manual."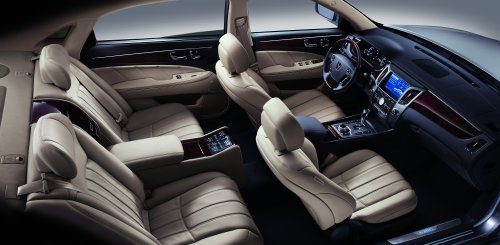 The Equus is available with all the luxury features you'd expect in a $50,000 or more car, including a V8 engine, heated/cooled seats, 17-speaker sound system, driver seat massage system, lane departure warning, rear backup camera, rear center console refrigerator and more.
Hyundai's current luxury car, the Genesis sedan, starts at $33,000. In October, the 2011 Genesis can be leased for $399 a month for 36 months with $2,698 at signing. It's also available with 2.9 percent auto loan financing for 60 months or 3.9 percent financing for 72 months.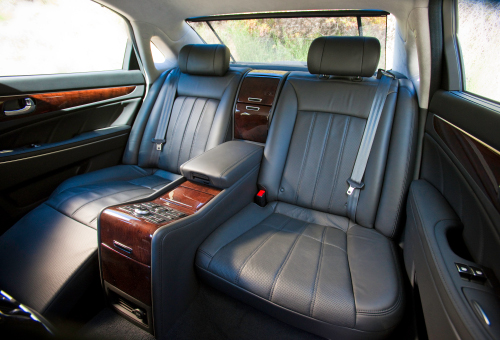 Images courtesy Hyundai Motor America.