2014 Audi A8L Diesel Will Get 36 MPG
The 2014 Audi A8L TDI will get 36-mpg on the highway. Adding a diesel engine to the A8's option list means that now you don't have to feel guilty about your fuel consumption when driving around in the top of the line extended length Audi. The unfortunate flipside is that you won't be able to make the joke "it passes everything but a gas station" anymore.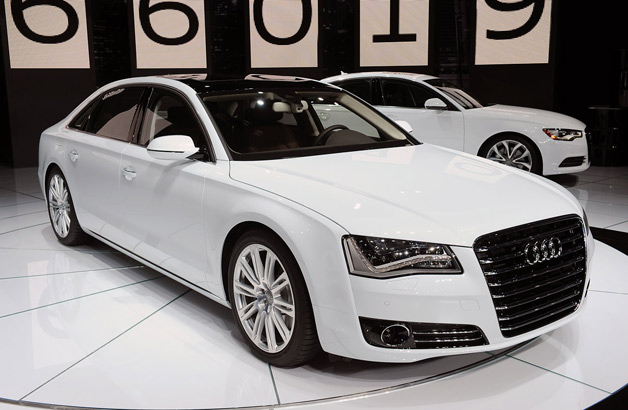 The 2014 Audi A8L TDI will use a 3.0-liter V6 diesel engine that makes 240-horsepower and 406 b-ft of torque and gets 24-mpg city and 36-mpg highway, according to Autoblog. The A8L TDI price will start at $82,500. Acceleration is good a 6.4-seconds 0-60, but since the engine is the same that is available in a few other Audi models including the smaller A6, so if you're looking to win a diesel drag race, the A8L TDI won't be your chariot of choice.
Large cars get bad gas mileage. It's a simple fact of life – if you want the luxury of a big car like BMW 7-Series, Mercedes-Benz S-Class or Audi A8, you are going to have to deal with awful gas mileage. Nobody is going to complain about the cost of gas when they just bought a car that costs upwards of $75,000, so there was no reason for carmakers to build a fuel efficient large luxury car, until now. More stringent fuel economy requirements are forcing carmakers to make compromises on every model, even the flagships. Mercedes-Benz has already introduced a diesel S-Class that gets 31-mpg highway.
Image via Autoblog.