Michael Oher's BMW 7-Series Is a Long Way from His Blindside Roots
Michael Oher, the Baltimore Ravens Football player whose early life story was the basis for the book and movie The Blindside. Oher went from a homeless teenager to a star professional football player who will be playing in the Super Bowl this year. Now that Oher is a wildly successful football star, he isn't playing it humble with his car choices.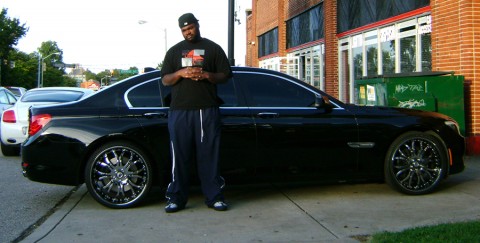 Michael Oher's incognito ride would have to be his BMW 7-Series. With the rare combination of being a luxurious and great looking car and a pretty common one, even riding on big wheels, the 7-Series is the perfect car for a famous person to drive without getting noticed.
When he feels like being a bit flashier, Oher drives this custom 1970 Chevy Chevelle SS with a classic blue and white color scheme and anything-but-classic 26-inch Forgiato wheels. With a full custom interior and huge sound system, Michael Oher's Chevelle is definitely built for cruising.
Variety is important, so Oher also has a new Chevy Camaro painted flat black with red accents and wheels.
Image via CelebrityCarz.