2014 BMW X5 Revealed, Will Have Rear-Wheel Drive Option for the First Time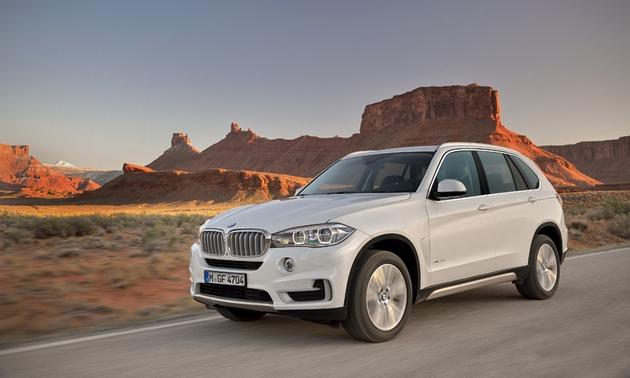 The 2014 BMW X5 will be larger, more luxurious and come with more drivetrain options than ever before.
The 2014 BMW X5 will be available for the first time with the option of rear wheel drive. Up until this point, all BMW X5 models since the original 2000 X5 The decision to offer a rear wheel drive BMW X5 came because BMW's research showed that many potential buyers don't need or want the offroad and snow driving capabilities that AWD offers. Offering a rear-wheel drive X5 will allow BMW to sell the SUV with a lower starting price as well as offering better performance and fuel economy thanks to the lower weight.
The base engine in the 2014 X5 will be a 3.0-liter twin-turbocharged inline six cylinder with 300-horsepower in the xDrive30i and sDrive30i. A 4.4-liter turbocharged V8 engine will make 445-horsepower in the XDrive50i. A diesel engine will be available in the 2014 X5 xDrive35d that makes 255-hp. No Hybrid model is planned for the X5, despite the fact that the powertrain from the ActiveHybrid 5 or ActiveHybrid 7 would be a perfect fit for the X5's previously mentioned non offroading clientele.
The newest generation X5 will include luxury and safety options like a heads up display, three different air suspension options, night vision that can detect humans and animals, lane departure warning and a 360 degree view parking assistant.
Source: Autoweek.