2014 Cadillac ELR Combines the Volt's Electric Powertrain with Cadillac Style
The 2014 Cadillac ELR has been revealed in production-ready trim at the 2013 Detroit Auto Show. The ELR is the final name of the Converj concept that debuted years ago and looked like it was ready to break ice in the arctic. Cadillac has calmed down the styling of the ELR's nose and the result is still striking, but not as odd as the concept's.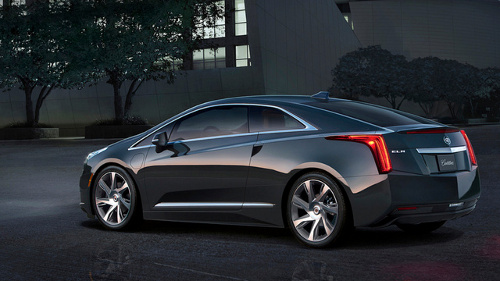 The 2014 Cadillac ELR will use the Chevy Volt's powertrain, which means it will have about a 40-mile range on electric power and a 1.4-liter engine to charge the batteries while the car moves. No announcement has been made about pricing, but expect the 2014 Cadillac ELR to cost quite a bit more than the Volt's $39,145 starting price.
I feel like this is the car the Volt should have been. Cadillac is a premium marquee, which makes it easier to stomach a $40,000 price tag for a small car. The innovative electric drivetrain is also more suited to a Cadillac than a Chevy – new technology is supposed to appear in luxury cars first and then trickle down, not the other way around. In addition to the reasons the car could have sold better as a Cadillac than a Chevy (and I think it will if they price the ELR within $5,000 of the Volt), Cadillac needs to separate itself from the GM pack (and the luxury car pack now that leather seats and chrome trim have become the norm) in order to be taken seriously by luxury buyers, and that unique electric drivetrain would have given Cadillac some much needed legitimacy.
Images via Jalopnik.