2014 Chevy Silverado and GMC Sierra Introduced, 4.3-Liter V6 Will Make a Comeback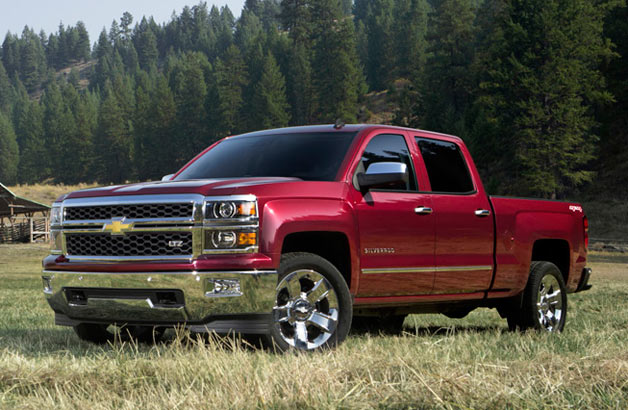 The 2014 Chevrolet Silverado and GMC Sierra have been revealed. The new Silverado and Sierra will be even bigger and brawnier than the last generation, but with a lot more styling on the front to keep the truck from looking like a wall.
The result is cartoonish to me, but I always feel that way when a new generation of pickup trucks comes out, then I grow to accept them and eventually like them. I think I may have Stockholm syndrome with the big-rig styling on today's trucks.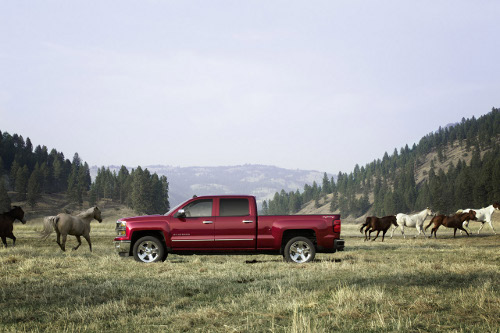 The new Chevy Silverado is great at chasing horses apparently. Chevy should use that in an ad actually: "the 2014 Silverado – enough power to pull a horse trailer, but quick and nimble enough that you won't need to" and then show the truck shepherding horses around. Call me.
GM will use three new engines in the 2014 half ton trucks, though two of the engines are actually just reworked versions of the LS motors that have been in Chevy's trucks since the early 2000s. The base engine will sound familiar to anyone who's been around GM trucks before, a 4.3-liter V6. Instead of unearthing the old 350-with-two-cylinders-cut-off 4.3 that GM used through the 80s and 90s, they built this one from the current truck engine technology, meaning it should have much better power and fuel economy. It's safe to anticipate that the 4.3 will be able to compete with the V6 Ford F-150 and Ram 1500 in horsepower and gas mileage, but GM won't release numbers until they've been tested and confirmed, a smart move given all the trouble carmakers are getting in right now for overestimating fuel economy.
GM also reworked the 5.3 and 6.2-liter V8 engines and added direct injection and new cylinder heads, but again won't say anything about the power or fuel economy in the new engines.
In what sounds very much like a shot at Ford and Ram, Jodan Lee, GM's Chief Powertrain Engineer said "rather than adapting a V-6 intended for use in passenger cars, we built a new engine from the ground up based on the unique demands of a truck." If car engines aren't good enough to do truck work, why was the small block V8, originally designed for a car in 1955, used in GM trucks until 2002?
I'll beat the other blogs to the punch by starting this rumor: since the 4.3 is back, it will probably be used in the next Chevy Colorado and GMC Canyon models. Since turbocharging is all the rage right now, why not slap a turbo on that and give the Canyon all-wheel drive so we can have a modern day Syclone? I'll race that against all of the imaginary Grand Nationals we heard about when the new Buick Regal was announced on the very technical race track in the Neighborhood of Make Believe. King Friday drives a stick shift rear-wheel drive diesel hatchback.
Images via Autoblog.