Most Desirable Woman of 2013 Jennifer Lawrence Drives a VW Eos
Jennifer Lawrence was named the most desirable woman of 2013 by Askmen. They're really going out on a limb naming Jennifer Lawrence the most desirable for the entire 2013 year, it's a long season and injuries happen. What if the she takes an arrow to the face while filming a Hunger Games sequel? Askmen's desirometer will definitely show the loss of desirability (there's actually no such device that can measure a woman's desirability just by pointing it at her, though there is actually a hit counter on their page for the actress). If dark horse bond girl Bérénice Marlohe, who Ask Men rated all the way down at number 99 makes a Cinderella story of this year's desirability, will they have the integrity to admit their mistake or will it be swept under the rug?
Most movie stars drive around in obnoxious luxury cars, but not Jennifer Lawrence, she has a Volkswagen Eos. That humility and everywoman attitude is probably why she won most desirable for 2013, it certainly makes her more attractive to me. Even when she's dressed up in a fancy dress, she drives herself in her convertible. I can just picture myself as her passenger, demanding that she open the top despite the fact that we're going to an awards ceremony, like Michael Scott did on the way to Jan's deposition on The Office.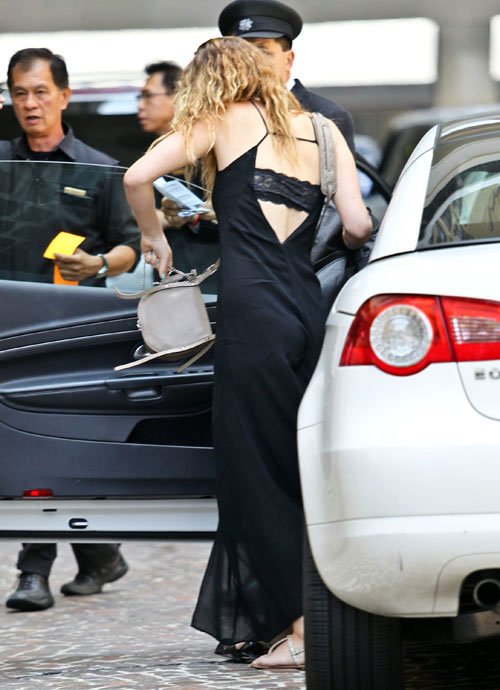 Jennifer Lawrence is famous for playing Katniss Everdeen in The Hunger Games, but was actually nominated for the best actress Oscar for a movie called Winter's Bone. I read the first paragraph of the Wikipedia synopsis and that movie was clearly a Hunger Games ripoff, so I don't understand why Lawrence would be nominated for that but not Hunger Games, but that's show business.
Jennifer Lawrence's frontside image via Celebrity Cars Blog.
Jennifer Lawrence's backside image via Tumblr.