The 2014 Chevrolet SS has been revealed. Fans of big rear-wheel drive sedans will rejoice that they finally have a competitor to the Dodge Charger and the expensive European options. The SS, like the Pontiac G8, will be based on the Australian Holden Commodore.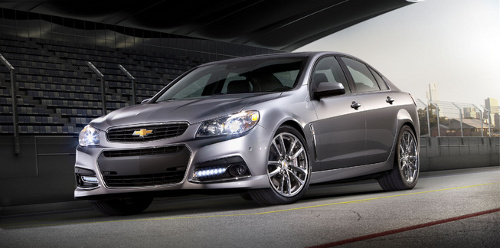 Chevrolet says that 2014 Chevrolet SS' 6.2-liter V8 engine, the same one that is doing duty in the 2013 Corvette, will have 415-horsepower and 415 lb-ft of torque. That power, put to the ground through a paddle-shift automatic transmission and a 3.27:1 rear end, will give the 2014 Chevy SS a 0 to 60-mph time of about 5 seconds, according to Left Lane News.
The SS will have a near 50/50 weight distribution, ventilated four-piston Brembo brakes up front and two piston Brembos in the rear, and aluminum hood and trunk body panels to save weight will all make the SS more than just a straight-line missile. Of course the average Charger buyer doesn't spend all day ripping 1/4 mile runs and dodging cones at autocrosses, the reason you buy a big car is because it's practical and comfortable. The 2014 Chevy SS will definitely be comfortable. Leather seats, Bose audio, a heads-up display, push-button start and automatic parking assist will all make the SS easy to live with on a daily basis.
Image via Left Lane News.