2014 Mazda3 Revealed, Fuel Economy Is Up And Smiley Face Is Gone
The 2013 Mazda3 has been revealed and the most surprising part of the reveal is the lack of the smiley face that has characterized the Mazda3 since the current generation went on sale in 2010. The new 2014 Mazda3 will use a full suite of Mazda's Skyactiv technology designed to give the best fuel economy possible. The new 2014 Mazda3 uses Mazda's kodo design language, joining the CX-5 and Mazda6 with the company's new look.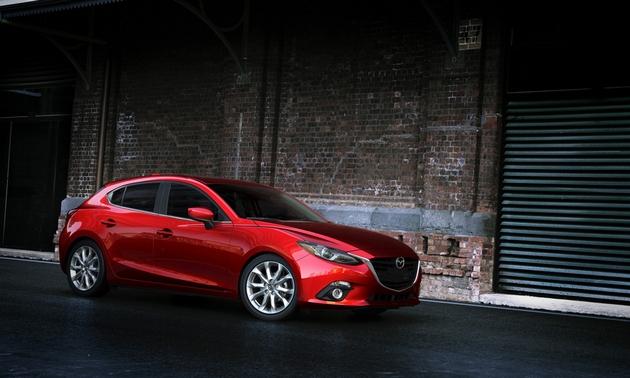 Mazda's Skyactiv brand is basically a name for the company's push towards more fuel efficient cars. Skyactive includes everything from Mazda's new engines and transmissions to light weight chassis, bodies and suspension components. The 2014 Mazda3 will also have active grille shutters for better coefficient of drag and an i-Eloop regenerative braking. Two Skyactiv four-cylinder engines will be available on the Mazda3. The 2.0-liter engine will have 155-horsepwoer and 150 lb-ft of torque while the 2.5-liter will have 184-hp and 185 lb-ft of torque. Six-speed manual and automatic transmissions are available.
The 2014 Mazda3 will have a 2.4-inch longer wheelbase than the 2013 Mazda3 but will actually be 1.8-inches shorter. The 2014 Mazda3 will also be 1.6-inches wider and 0.6-inches shorter than the outgoing model, which will make it quite a bit sportier looking. That extra width also translates into 2.7-inches more shoulder room and 1.6-inches more hip room. Mazda has not yet announced pricing or official fuel economy figures for the 2014 Mazda3, but expect both engines to beat the 40-mpg highway rating that the 2013 Mazda3 has.
Source: Autoweek.