Wiz Khalifa's Chevy Chevelle and Porsche 911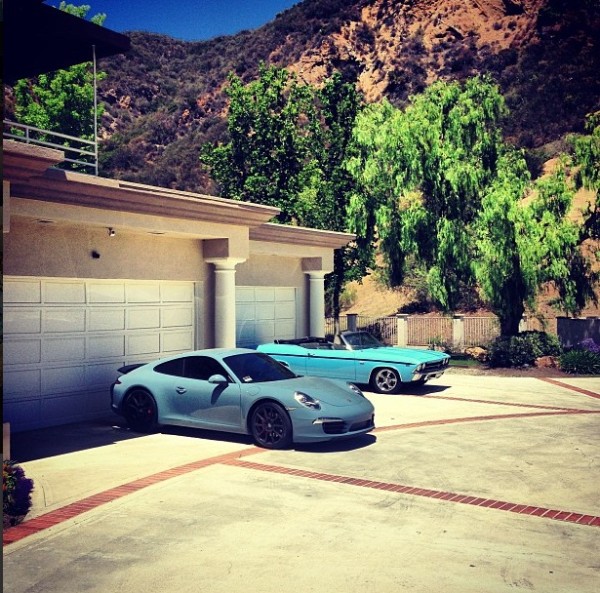 Wiz Khalifa's first big hit Black and Yellow was about his car, so if anyone is going to spend money on sweet cars, it will be him. Wiz recently took a picture of his driveway and it doesn't disappoint. Wiz Khalifa's cars have both style and speed covered. If Wiz Khalifa wants to go fast, he's got a Porsche 911 that's been custom painted in a gorgeous blue and black. If he feels like stunting, Khalifa has a 1969 Chevelle convertible, You can make a very compelling argument that both of his cars have style and speed, the 911 is definitely beautiful and the Chevelle was one of the faster cars of its day (not to mention that any small block Chevy could easily have 500 horsepower.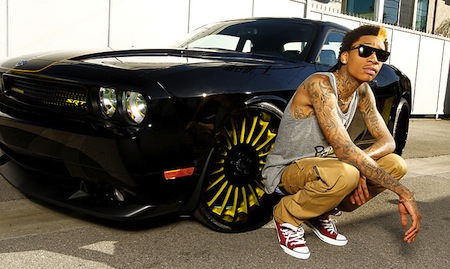 Wiz also posed for pictures with his black and yellow Challenger. This car was either repainted or Wiz bought another, because the Challenger he wrote about in Black and Yellow had yellow paint with a black stripe.
From Black and Yellow:
Hit the pedal once make the floor shake

Suede inside, my engine roaring

It's the big boy, you know what I paid for it
I'm guessing the Black and Yellow car Wiz has is an 09 Challenger at the latest, since his CD dropped in September 2010, so that big boy would have cost him at least $40,220. Not a small chunk of change, but now that Wiz has hit it big, he can afford a Porsche 911 with a starting price of $84,000, more than double the big boy Challenger.
Images via Celebrity Cars Blog.