2014 Mercedes-Benz CLA250 Is the Most Aerodynamic Production Car Ever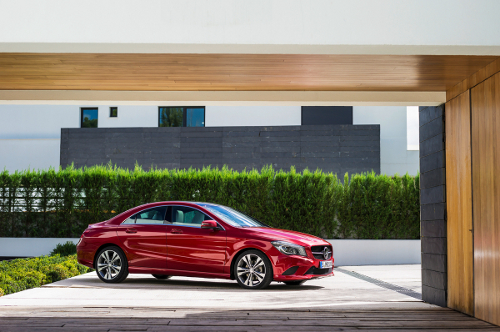 Mercedes-Benz has just revealed the 2014 CLA250, which is a small luxury car designed to compete with the BMW 1-Series, Cadillac ATS and Acura ILX for the money of the this-is-very-much-an-aspirational-purchase entry level luxury car buyers. The CLA250 will also be the distinction of being the most aerodynamic series production car in history, beating even the super-aerodynamic Toyota Prius and Honda Insight.
The 2014 CLA250 will come with a turbocharged four-cylinder engine with 208-hp and 258 lb-ft of torque. Collision Prevention Assist will warn the driver of potential obstacles and apply the correct amount of braking force when the driver steps on the brake pedal.
The CLA will also have a drag coefficient of 0.23, a new record for series production automobiles (According to Wikipedia, the Toyota Prius, Honda Insight and Hyundai Sonata Hybrid all have a drag coefficient of 0.25. Interestingly, the 2001-2006 Lexus LS430 matched that.) Mercedes has not announced the CLA250 gas mileage yet, but the very low drag coefficient should help the small car beat 40-mpg on the highway.
Since Mercedes already has an A-Class and a B-Class, which aren't for sale in the United States, they needed a new name for their smaller-than-a-C-Class sedan. They could call it a Z-Class, or give it an actual name, but then they would be abandoning their naming scheme that often makes no sense anyway. I think it might be time to call for a moratorium on the phrase 'four door coupe'. It really doesn't mean anything besides sedan and the only people who use it are employed by the PR and advertising departments of OEMS or the sales departments of dealerships. A four door coupe is just a sedan, and if it's a particularly stylish sedan, that should be enough to sell the car (and it is, it turns out car buyers like good looking cars) without resorting to making up new redundant segments.
Image via Mercedes-Benz.