2014 Mercedes-Benz E-Class Coupe & Convertible Revealed
The 2014 Mercedes-Benz E-Class Coupe and Convertible will go on sale this summer. The E350 coupe and convertible models will be powered by a 302-hp V6 engine and the E550 will have a twin-turbo V8 that makes 402-hp. Only the E350 Coupe will be available with all-wheel drive. All E-class Coupes and Convertibles will have Mercedes-Benz's seven-speed transmission.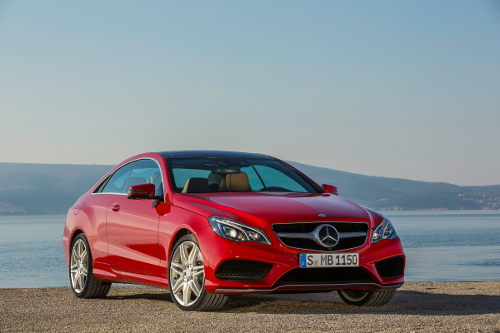 The four-light front end that has characterized the E-Class since the mid 90s is gone, now the E-Class will have a single light enclosure on each side to house all of the lights. A new rear end with revised tail lights and chrome trim will further separate the 2014 E-Class two-doors from the older models.
The 2014 E-Class Coupe and Convertible will also have an updated interior with the gear selector moved from the center console to the steering wheel. Hopefully you'll have the option to hold the car in gear with the steering wheel controls so you can hold it at the rev limiter and then hit the next gear, screaming "NOS!" while you jump ahead like you're in the Fast & the Furious. Mercedes points out in the press release that the new center console leaves more room for bigger cupholders, which is important now that Starbucks has come out with the Trenta size and is finally offering a full-sized iced coffee.
Convertibles will get a new acoustic insulated soft top that reduces wind noise at speed and Mercedes' new AIRCAP system to reduce noise with the top down. The AIRCAP system deploys a wind blocker from the windshield at 25-mph and retracts again at 10-mph so that it doesn't mar the beauty of the car while cruising. The wind deflector between the front seats won't deploy if the rear seat belts are buckled, so parents will have a pretty obvious indication if their kids don't buckle up.
The new E-Class Coupe and Convertible will have the same radar-based Collision Prevention Assist program as Sedan and Wagon models that adds adaptive braking assistance, a lane departure warning system, an automatic parking system and a system that alerts drivers if it senses they are inattentive and suggests breaks to prevent drowsiness.
Image via Mercedes-Benz.