Bethenny Frankel's Divorce Won't Cramp Her Style in a VW Beetle Convertible
Bethenny Frankel is the owner of Skinnygirl Cocktails, maker of the Skinnygirl Margarita. In my personal observations, the Skinnygirl Margarita is more often an aspirational purchase than it is a description of the drinker, but it's popular and girls order it without a hint of self conscience, so Bethenny is a wealthy lady. She is also famous for being on The Apprentice and Real Housewives of New York, among other reality shows.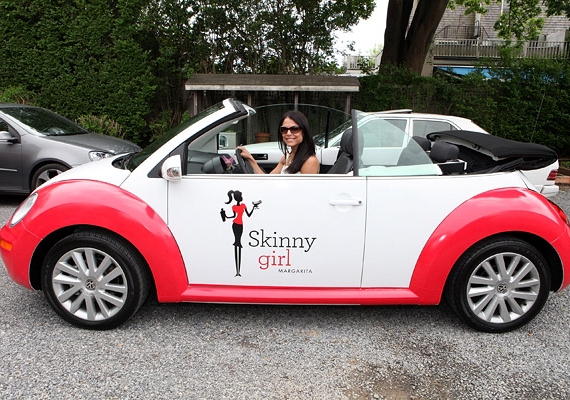 Bethenny Frankel's car is not an aspirational purchase, at her income level I think the only think that you could apply that term to might be a private island, it's a cute little VW Beetle convertible. Bethenny Frankel's Beetle is a convertible model with a red and white paint job and her company's logo on the side, so it might just be her car for promotional use. I can't imagine she gets driven around New York City in the back seat of the Beetle.
Bethenny Frankel is getting a divorce from her husband Jason Hoppy, who starred alongside her in the appropriately punctuated "Bethenny Getting Married?" which debuted in 2010. According to Wikipedia, Frankel filed for divorce in December.
Image via Born Rich.