350-Horsepower Audi SQ5 Kickstarts Performance Small SUV Segment
The Audi SQ5 has been revealed and with it a new genre of luxury cars – the performance small SUV.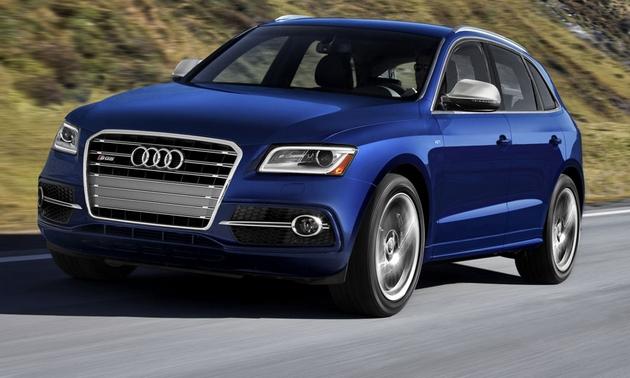 The small luxury SUVs like the Audi Q5, the Mercedes-Benz GLK and the BMW X3 have always been overlooked by their companies' performance groups, even while the larger SUVs have gotten performance versions. It's actually kind of odd that the small SUVs never got love from the performance tuners, because it was the smallest cars that got the first S and M treatments with the 1991 Audi S4 and 1985 BMW M3 (AMG started with the larger E-Class).
The 2014 Audi SQ5 will use a souped up version of the supercharged V6 engine currently available in the Q5 that makes 354-horsepower and 347 lb-ft of torque. The SQ5 will use an eight-speed automatic gearbox and all-wheel drive to accelerate from a stop to 62-mpg in 5.3 seconds and have a top speed of 155-mph, according to Autoweek. The SQ5 will be 1.18-inches lower than the regular Q5 and will get 20-inch wheels standard, with 21-inch wheels available. A more aggressive body kit will separate the SQ5 from the standard model visually.
The only competition the 2014 Audi SQ5 will have performance wise is the Infiniti EX37, which has 325-horsepower from its naturally aspirated V6. The BMW X3 has a turbocharged inline six-cylinder engine with 300-hp, the Mercedes-Benz GLK350 makes 302-horsepower with its V6 engine, the V6 Cadillac SRX has 308-horsepower, the Lincoln MKX has a 305-horsepower V6. Hopefully the SQ5 will be such a success, and an embarrassment to the competition, that the next few years will hold an X3M, AMG GLK and an SRX-V.
Image via Autoweek.