2014 Mitsubishi Mirage Is the Most Fuel Efficient Non-Hybrid Gas Car – 44-MPG for $13,000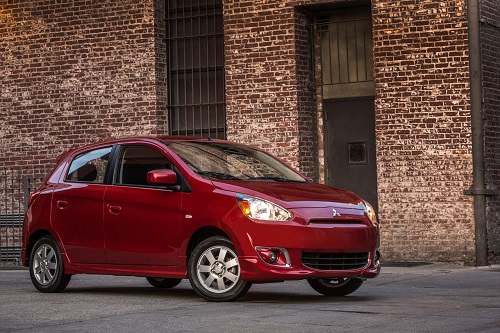 Are you cheap? Do you know which fast food restaurant has the best dollar menu? Do you actually shop around for gasoline prices? When your friends buy 12 packs of beer do you curse them for not realizing the 30-rack is 11 cents per beer less expensive? If you answered yes to those questions, you're either cheap or a college student (not mutually exclusive) and the 2014 Mitsubishi Mirage should be right up your alley.
With a starting price of $12,995, the 2014 Mitsubishi Mirage is one of the least expensive cars on the market. Not only that, it gets 44-mpg, which is the highest of any non-hybrid gasoline powered car in the United States.
With the CVT transmission, the 2014 Mitsubishi Mirage will be rated at 37-mpg city and 44-mpg highway. The base 5-speed manual will get 34-mpg city and 42-mpg highway. Mitsubishi says that the fuel efficiency of the Mirage is mostly thanks to its low 0.28 drag coefficient and an updated version of Mitsubishi's MIVEC variable valve timing system.
Image via Autoblog.