2014 Ram 3500 Can Tow 30,000-LBs, But You'd Need a CDL to Do It
The 2014 Ram 3500 will be able to tow an astounding 30,000-lbs. Thanks to chassis and engine upgrades, the Ram 3500 has significantly outgunned the competition with its newest update. That beats Ford and Chevy's biggest towing pickups by over 5,000 lbs.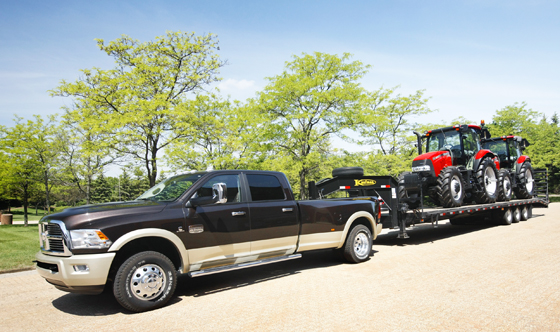 To achieve the 30,000-lb tow rating, the 2014 Ram 3500 has a new frame, upgraded front and rear suspensions, and an upgraded Cummins diesel engine. The new Cummins diesel now has a Diesel Exhaust Fluid injection system and an upgraded cooling system, according to PickupTrucks.com. The 2014 Ram's Cummins will have a ridiculous 850 lb-ft of torque, so if you're building a hot rod and want to hang the front wheels at will, this will be the engine to look for.
The 2014 Ram 3500's 30,000-lb towing rating smashes the top ratings at Ford and Chevy, Ford's SuperDuty F-450 is rated at 24,700-lbs and the Chevy 3500 HD is rated at 23,000-lbs.
The only problem with these insane towing figures, as PickupTrucks.com points out, is that they exceed what the government has decided a normal person can handle. Drivers with a truck and trailer over 26,000 lbs gross combined vehicle weight need to have a CDL Class A license.
Image via PickupTrucks.com.