2014 Ram ProMaster Commercial Van Priced Under $30,000
Pricing for the 2014 Ram ProMaster work van has been announced. The new commercial van from Ram, which replaces the Sprinter now that Mercedes-Benz no longer owns Chrysler, will be based on the Fiat Ducato. The ProMaster will start at $29,625 for a 1500 short wheelbase model and range up to $37,145 for a 3500 long wheelbase extended body high roof van.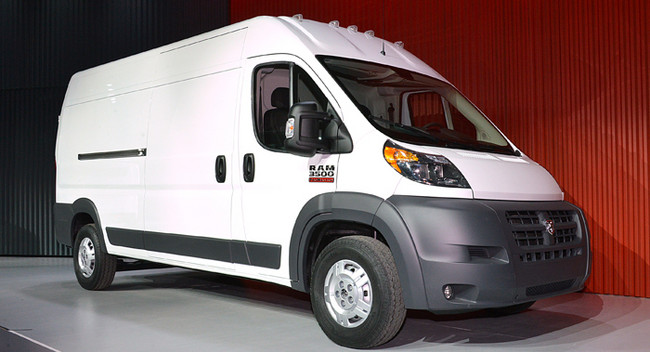 The 2014 Ram Promaster will have a unibody construction and front-wheel drive, which might make it a hard sell for truck-minded commercial buyers. The 2014 ProMaster will be available with three wheelbases, four different overall lengths, two roof heights and cargo, chassis cab or cutaway body styles, according to Left Lane News. No passenger van setup is available, which could limit the ProMaster's sales in a market where every commercial van comes with the option of full windows and seats. A 280-horsepower, 258 lb-ft Pentastar V6 engine will be standard with a four cylinder turbodiesel engine optional that makes 174-horsepower and 295 lb-ft of torque.
Payload capacity of the 2014 Ram ProMaster will be 5,145-lbs.
Ram claims that the 2014 ProMaster will have best in class fuel economy, but hasn't said how many miles per gallon the van will get. Ram also doesn't mention if it is considering the ProMaster in the same class as Mercedes-Benz's 25-mpg Sprinter (according to their web page, no official fuel economy figures are collected on vehicles with a GVWR over 8,500-lbs) or the 27-mpg Ford Transit Connect, but it is probably the former.
Image via Left Lane News.