2014 Toyota 4Runner Revealed At Stagecoach Festival
The 2014 Toyota 4Runner was revealed this week at the 2013 Stagecoach Music Festival. The new redesigned 4Runner has a tougher, more squared off look that might convince some buyers it's a real offroad truck and not just a soccer mom-mobile.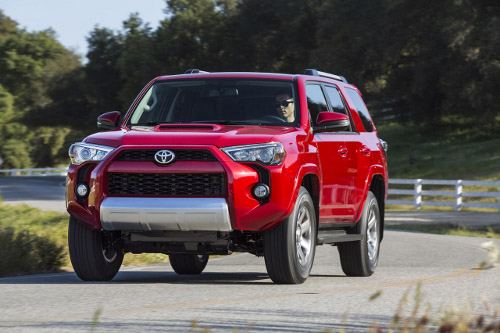 And the Toyota 4Runner is a real truck, it still uses a tough body on frame design, leaving the Highlander to compete with the Ford Explorer, Jeep Grand Cherokee and Nissan Pathfinder in the crossover segment. The 4Runner will continue to be offered with the 270-horsepower 4.0-liter V6 engine it shares with the Toyota Tacoma as well as the option of either two wheel-drive or four wheel-drive.
This is the first time a new car has been revealed at a music festival, which might mean that music festivals have lost their magic and are now just another place you can go to be advertised at, or it could also mean that it doesn't matter at all anymore where a new car is unveiled. The Stagecoach festival in California featured Hank Williams Jr., Hootie, Jeff Bridges, Katey Sagal, Charlie Daniels and a lot of other country musicians that whose names I, as a non enthusiast, didn't recognize but are probably more popular.
Image via Autoblog.