2015 Ford F-150 700 Pounds Lighter, Smaller Turbocharged Engine Now Available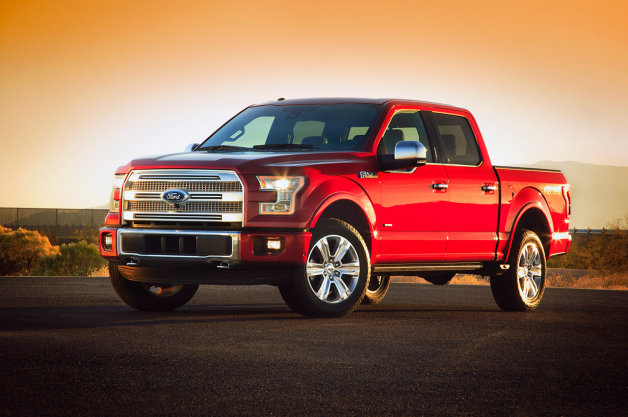 The aluminum 2015 F-150 will be quite a bit lighter than the 2014 model it replaces. The new F-150's aluminum body and the use of high strength steel in the chassis provide over 700 pounds of weight savings in some body configurations. The F-150 is getting less power to match the lower weight. The base engine is now a 3.5-liter V6 with 283-hp and 255 lb-ft of torque, replacing the 302-hp 3.7-liter available on the 2014 model. The next step up will be a 2.7-liter Ecoboost turbocharged V6 with 325-horsepower and 375 lb-ft of torque. The 360-horsepower 3.5-liter Ecoboost and 5.0-liter V8 will still be available.
Ford says that the new base V6 will have a maximum payload of 1,910 pounds and a tow rating of 7,600 pounds. The 2.7-liter Ecoboost V6 can haul 2,250 pounds and tow 8,500 pounds. Both of the quoted ratings are for two-wheel drive models, those tow ratings should drop by about 300 pounds for four-wheel drive trucks, while the payload ratings are more specific to bed size.
Ford hasn't released official fuel economy figures for the 2015 F-150, but says that the base V6 will have a 5% better power to weight ratio than the outgoing 3.7, despite 19 fewer horsepower. If that translates to 5% better fuel economy that would mean around 18-mpg city and 24-mpg highway, which are impressive if not groundbreaking numbers.
Source: Autoblog