22 New Cars Ranked Top Safety Pick Plus By IIHS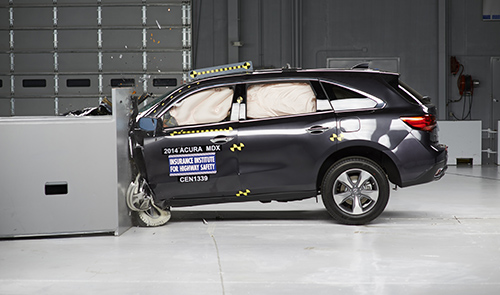 The Insurance Institute for Highway Safety has made the requirements for its Top Safety Pick Plus award more stringent for 2014, awarding it to just 22 vehicles.
To qualify for the Top Safety Pick Plus award a vehicle needs to get the highest rating of "good" in the moderate overlap frontal, side impact, roof strength and rear crash tests, must earn a score of "good" or acceptable in the small overlap frontal crash test which imitates an impact with a tree or light pole at 40 mph, and must include front crash protection technology that will either warn a driver of an impending crash or automatically apply the brakes.
Of the 22 cars that qualified for the Top Safety Pick Plus award, Honda (along with Acura) had the most with five. Mazda, Subaru and Volvo each had three vehicles that earned Top Safety Pick Plus honors.
2014 IIHS Top Safety Pick Plus Winners:
Acura:
2014 Acura MDX
2014 Acura RLX
Ford:
2014 Ford Fusion
Honda:
2014 Honda Accord (coupe and sedan)
2014 Honda Civic Hybrid
2014 Honda Odyssey
Infiniti:
2014 Infiniti Q50
Lincoln:
2014 Lincoln MKZ
Mazda:
2014 Mazda3 (built after October 2013)
2014 Mazda6
2014 Mazda CX-5 (built after October 2013
Mercedes-Benz:
2014 Mercedes-Benz M-Class (built after August 2013)
Mitsubishi:
2014 Mitsubishi Outlander
Subaru:
2014 Subaru Forester
2014 Subaru Legacy
2014 Subaru Outback
Toyota:
2014 Toyota Highlander
2014 Toyota Prius (built after November 2013)
Volvo:
2014 Volvo S60
2014 Volvo S80
2014 Volvo XC60
Source: Kicking Tires.
Image via Kicking Tires.