Arnold Schwarzenegger Shops For New Jeep Wrangler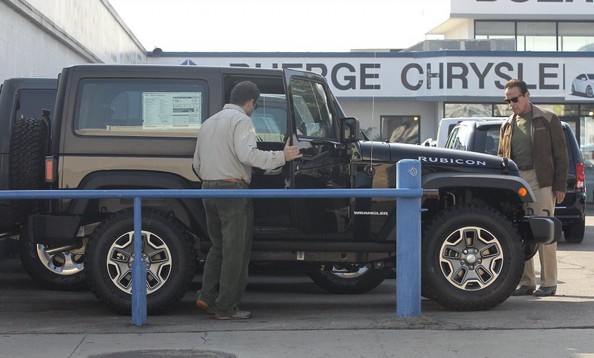 Arnold Schwarzenegger has always been a fan of military-inspired trucks. He was known for driving Hummers in the 1990s and 2000s. Of course as Governor of California Schwarzenegger got a lot of heat for driving a gas guzzling monster truck, so he switched to a Toyota Prius. Now that Arnold is back to being a movie star, he can drive whatever he wants and it looks like he's in the market for something between the Hummer and the Prius – A Jeep Wrangler.
The 2014 Jeep Wrangler gets 21-mpg highway and 17-mpg city, not exactly a fuel economy king but still much better than the Hummer H1's 13-mpg.
A Jeep Wrangler is also much less expensive than a Hummer. The Hummer H1 sold for around $130,000 new and 15 year old used versions are still commanding over $50,000. The 2014 Jeep Wrangler Rubicon that Arnold was looking at starts at just $30,995.
Image via Celebrity Cars Blog.