252-HP 2013 Ford Focus ST Starts at $24,495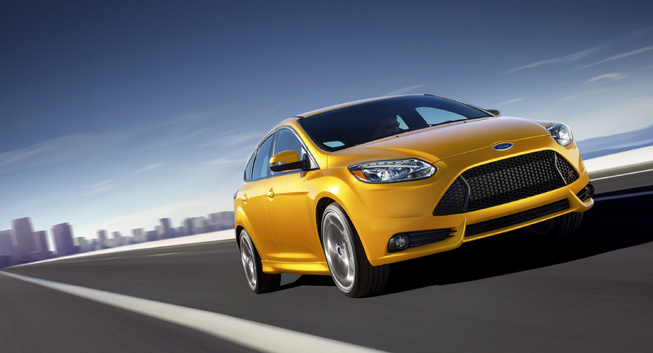 Ford has announced that the 2013 Ford Focus ST will start at $24,495. That's lower than initially expected, but still $2,000 more than the 300-hp Mustang V6. The Focus ST will be powered by a 2.0-liter turbocharged four-cylinder engine with 252-hp and 270 lb.-ft of torque, 15 of which are only available for a short time courtesy of an overboost feature that acts just like the nitrous button from racing videogames.
The 2013 Focus ST will only be available with a six-speed manual transmission. A unique Enhanced Torque Vectoring Control System applies steering pressure and torque to limit torque steer. A 10mm lower ride height, new anti-roll bars and upgrades shock absorbers will all work to make the Focus ST a great handling car. To that same effect, the Focus ST will come with 235-series Goodyear Eagle F1 Asymetric 2 tires. That's serious rubber, and it will be interesting to note after five years how many hot hatch buyers choose to replace those tires with some that cost less than $700 to replace.
The Ford Focus ST was designed and tested by Ford America's SVT team and Ford Europe's RS team, giving Ford the opportunity to claim it as the company's first global sports car.
The Focus ST will get a unique steering wheel, foot pedals, and gear shifter along with white Recaro seats in partial or full leather.
Source: Left Lane News.