The United States will finally get the BMW X1. BMW's subcompact luxury SUV has been available elsewhere in the world since 2009, with the company holding off on an American introduction presumably to test the subcompact waters with the 1-Series. The X1 will be very similar to the X5 and X3 buyers are now familiar with – an SUV built on the same platform about the same size and sharing the same powertrains as the car is shares a number with.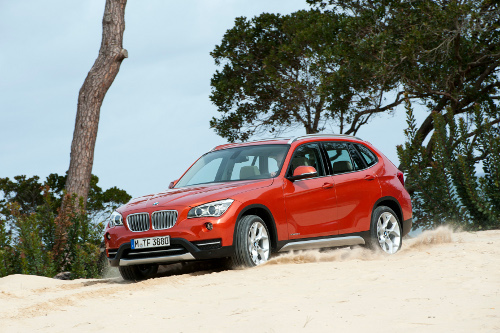 The 2013 BMW X1 will go on sale this fall and have a starting price of $31,545 including destination fees. While BMW's press material claims the X1 is the first subcompact luxury SUV, BMW-owned Mini actually has the countryman that will be competing directly with the X1. BMW can claim that the Mini Clubman and BMW X1 won't compete, but I'm willing to bet most buyers will be cross shopping them.
The 2013 BMW X1 will have powertain choices that mimic the 1-Series. The BMW X1 sDrive28i and xDrive 28i (s models are rear-wheel drive and x are all-wheel drive) will be powered by BMW's 2.0-liter turbocharged four-cylinder engine that makes 240-hp and 260 lb.-ft of torque. The sDrive28i will go 0-60-mph in 6.2 seconds while the heavier xDrive28i will do it in 6.3. The four-banger models aren't slow, but the real star is the exclusive-to-America xDrive35i with BMW's 3.0-liter turbocharged inline-six cylinder engine. The xDrive35i will have 300-hp and 300 lb.-ft of torque which, combined with the mandatory all-wheel drive, will bring the small SUV 0-60 in just 5.3 seconds.
An M Sport package will be available on the X1, but no details have been released on the contents.