A 300-Horsepower Honda Civic? The Next Civic Type-R Will Be The First
The next generation Honda Civic Type-R will have a 300-horsepower turbocharged engine when it goes on sale in 2015. Honda has said that the goal of the 300-hp Civic Type-R will be to beat the Nurburgring record for front-wheel drive production cars.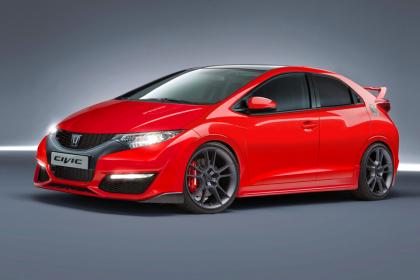 The 2015 Honda Civic Type_R will use a turbocharged 2.0-liter engine top reach its 300-hp goal. Yasuhisa Arai from Honda R&D told Auto Express that the 300-hp mark will be necessary to beat the Renault Megane 265's record time for front-wheel drive cars around the Nurburgring. Arai said the goal for the Civic Type-R's price in the UK will be £25,000, approximately $40,000 US.
A mechanical limited slip differential, rear wheel steering and other suspension tweaks are being considered to reduce torque steer and keep the Civic Type-R stable under heavy braking.
Honda has never sold the Civic Type-R in America. The only Type-R we ever saw was the Integra Type-R sold from 1997-2001. The Type-R's price is surely one of the main factors keeping the fastest Civic from America, but with Honda's reputation, and especially the Civic's thanks to a lackluster response to the last redesign, sinking in the U.S. right now, maybe it's time for Honda to reinvigorate their fanbase with a no-holds-barred race ready Civic. Sure it wouldn't compete with similarly priced American sports cars in a straight line, but if it could beat them around the track Honda would start gaining fans again. Maybe an ILX Type-R would help Honda justify the extra cost.
Image via Auto Express.