Anne Hathaway's Hilarious SNL Homeland Spoof and Her Awesome Audi R8 Spyder
Anne Hathaway took the opportunity of hosting SNL this week to do some impersonations of fellow actresses. Hathaway did a spoof of Homeland, playing Claire Danes' bipolar CIA agent character just a little bit more over the top than Danes does, which you can see below. Hathaway also played Katie Holmes during a skit and took a shot at her trademark half-smile. The skits aren't particularly scathing, so don't hold your breath waiting for a bottle of Cristal to get thrown at an Oscars afterparty this year, but they are funny.
When Anne Hathaway isn't busy hosting SNL or being the second hottest movie Catwoman (don't even pretend that you believe she can compete with Michelle Pfeiffer, Pfeiffer's damaged and dangerous catwoman was sexy on a whole different level), Anne Hathaway drives an Audi R8 Spyder. The 525-hp Audi R8 Spyder 5.2 V10 will do 194-mph with the top down, which is probably more than Batman's motorcycle will, even if it isn't quite as cool. The R8 Spyder also does 0-60 in 4 seconds flat. Anne Hathaway also drives an Audi A5, so while she does have a more practical car, she doesn't bother with four-door cars. That's smart of her, if you have a tiny coupe you will never be asked to drive to dinner with a group of people.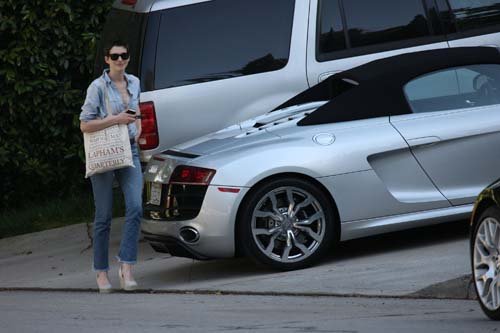 Image via Celebrity Cars Blog.