Channing Tatum's Classic Chevy Apache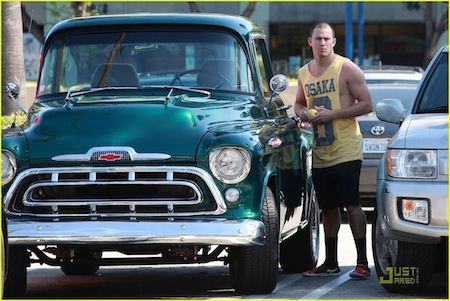 Channing Tatum was named the sexiest man alive for 2012 by People Magazine. I don't believe that honor comes with a trophy, but Tatum can probably just hire someone to frame all the underpants that get thrown at him if he really needs a physical representation of his award.
Tatum's award comes shortly after he starred in Magic Mike, a movie about male strippers. We're all familiar with Oscar bait, now it's time to familiarize yourself with sexiest man alive award bait movies. Expect to see movies a slew of stripper, surfing, MMA and lifeguarding movies in the months leading up to the sexiest man alive issue, with a few oddball shirtless landscaper, swimming and beach volleyball ones thrown in.
Everyone knows that a cool car will make up for your shortcomings with the ladies, so when he's not busy being a rich, famous, handsome, sexy actor, Channing Tatum drives a cool car. Actually it's a truck, a classic Chevy pickup from the Task Force/ Apache body style (1955-1960). I don't have enough familiarity with Chevy trucks to tell what year Tatum's truck is, but it's probably been rebuilt so many times that the identifying marks are misleading (if he's smart anyway, let's be honest, a numbers matching classic is for looking at, not driving).
Image via Celebrity Cars Blog.