Redesigned 2013 Mazda CX-9 Will Write Text Messages For You
Mazda has revealed the 2013 CX-9. In addition to an updated look, Mazda has made upgrades to the technology, including a new infotainment system that can write text messages for the driver. The 2013 Mazda CX-9 will start at $30,580.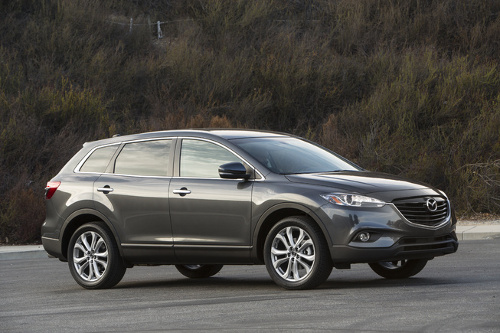 Mazda has added a 5.8-inch infotainment screen to the CX-9. The system is standard on all CX-9 models and includes an audio messaging system that displays text messages on the heads up display, reads them aloud and can compose new messages from a set of fixed phrases (Mazda doesn't say if you can program your own phrases in, so if your pat response is "make it so, Number One," you might be out of luck.
Reconfiguring the second and third row seats will now be easier. Folding the second row seat to get to the third row is now a one hand job. The third row is also easier to raise and lower thanks to a strap on the headrest, according to Left Lane News.
I'm happy to report that the 2012 CX-9's smiley face front end, which was funny on the Mazda3 at first but got old fast and never actually looked good on a car, is gone. Instead, the CX-9 has an updated front fascia that matches the CX-5's design. While the new CX-9 isn't exactly beautiful, it's better. In Mazda's defense, the only large SUVs that are actually attractive to me are the huge truck based ones – the Armada, Tahoe and Expedition come to mind.