45-MPG 2013 Volkswagen Jetta Hybrid Will Start at $24,995
The 2013 Volkswagen Jetta Hybrid will have a starting price of $24,995. The Jetta Hybrid will get 45-mpg combined and be able to drive at up to 44 miles per hour without using the gasoline engine.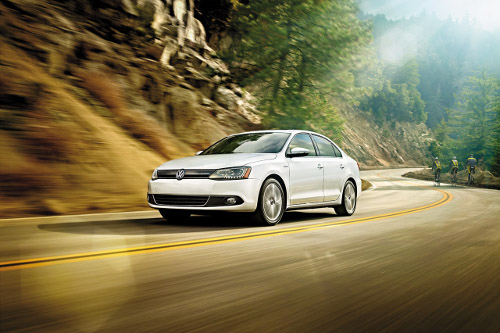 The 2013 VW Jetta Hybrid will use a 1.4-liter turbocharged four-cylinder engine and an electric motor that put out a combined 170-hp and 184 lb-ft of torque. Using a seven-speed DSG automatic transmission, Volkswagen claims the Jetta Hybrid will get 45-mpg combined.
The 2013 VW Jetta will also be available with a diesel option, giving hybrid haters a fuel sipping option. The VW Jetta TDI starts at $22,990 and get 30-mpg city, 42-mpg highway. Since diesel is typically more expensive than gasoline, the $2,000 savings in the diesel will probably not last long. I don't think I'll be the first to ask if Volkswagen could combine the TDI diesel engine with the hybrid drivetrain to hit some astronomical fuel efficiency figure like 60-mpg and possibly justify the huge premium the car would require (I'd guess somewhere around $30,000 to start, based only on eyeballing the extra cost of the TDI and Hybrid models and picking a nice round number).
Source: Autoblog.