The Jersey Shore is Ending, but Pauly D's Lamborghini Should Cheer You Up
To every thing there is a season, and a time to every purpose under the heaven:

A time to be born, and a time to die; a time to plant, and a time to pluck up that which is planted;

A time to kill, and a time to heal; a time to break down, and a time to build up;

A time to weep, and a time to laugh; a time to mourn, and a time to dance;

A time to cast away stones, and a time to gather stones together; a time to embrace, and a time to refrain from embracing;

A time to get, and a time to lose; a time to keep, and a time to cast away;
Ecclesiastes 3:1
After this season, we must cast away The Jersey Shore. The sixth and final season started airing last night and while we are sad that our friends Snooki, Jwoww, Pauly D, Sammie Sweetheart, Ronnie Vinny and The Situation will no longer fill our homes with their weekly laughs, we can still enjoy the final season in the hope that the cast's fame has not ruined their once innocent charm forever and that we will see more of our guido and guidette friends.
Pauly D is one member of the Jersey Shore that seems most likely to continue to stay in the limelight for some time to come. He's parlayed his fame from the MTV show into DJ gigs in prominent places, and his name alone sells out shows (at least in RI where his cartoon-character-that-just-ate-a-firecracker blowout is a well accepted long standing fashion trend). And he's also one of the more car-obsessed Jersey Shore members, with a Cadillac tattoo on his side and a Lamborghini Gallardo in his garage.
This video is worth watching just for the sad, awkward camera man trying desperately to strike up a conversation with an obviously distracted and not interested Pauly D.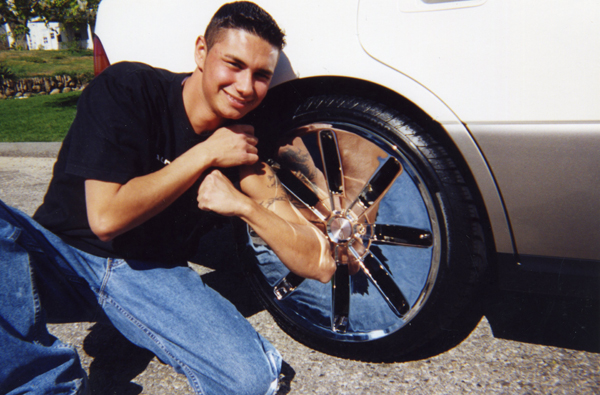 Pauly D has always been into flashy cars, this picture of Pauly D from When I was 17 shows the pre-DJ Pauly flexing next to what looks like a Lexus ES300 with some of the chromest chrome wheels I've ever seen.