575-HP 2014 Shelby Raptor Production Limited to 500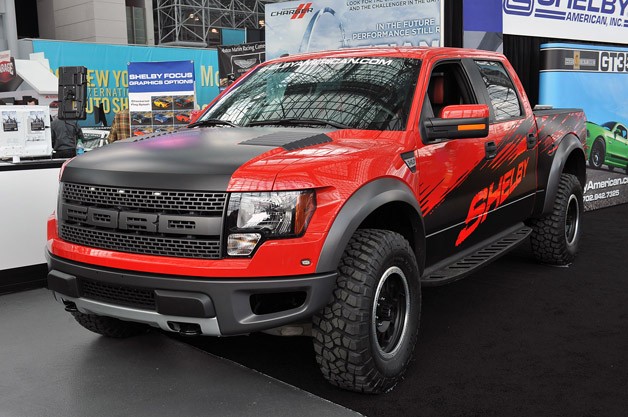 Shelby has a long history of tuning up Ford products, and it was only a matter of time before the legendary group turned its attention to Ford's hottest truck, the Raptor. Shelby will be building 500 Shelby Raptors each year, offering 575-HP to those lucky enough to score one, and with enough money to afford the $17,995 package.
The standard 6.2-liter 2013 Ford Raptor has 411-horsepower and 434 lb-ft of torque, which is almost as much as the 2014 Mustang, but the Raptor also weighs 2,400-lbs more than the Mustang, so if you want to keep up with sports cars in your full-size pickup truck, you need more power.
Shelby has addressed that need with the Shelby Raptor. With a supercharger added on top of the 6.2-liter V8 and a Borla exhaust, the Shelby Raptor will have 575-horsepower. The Shelby Raptor will also get 35-inch BF Goodrich all terrain tires, optional custom wheels and three different sticker options.
Shelby initially intended the Raptor to be limited to just 100 units. According to Autoblog, after seeing the early demand (they only announced the truck a week and a half ago) the company has decided to build 500 Shelby Raptors per year.
Image via Autoblog.