AM General MV-1 Wheelchair Van Gives VPG MV-1 a New Life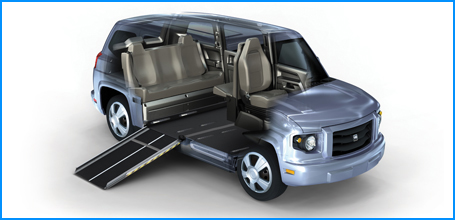 AM General has restarted production of the MV-1 mobility van. AM General reached a deal with the Department of Energy to buy the assets of the now-defunct VPG and begin production of the AM General MV-1, according to WSBT 22 in Indiana. The first of the new AM General MV-1 mobility vans rolled off the production line already and will be on sale on April 1. The MV-1 has a starting price of around $50,000, which puts it in direct competition with the much smaller minivans converted to be wheelchair accessible.
The VPG MV-1 was the first vehicle purpose built to provide easy and comfortable transportation to disabled passengers. It has room for four adults plus two full sized wheel chairs and had an ADA approved wheel chair ramp standard. Funded with Department of Energy loans, the VPG MV-1 was one of the great sources of optimism that was born from the auto bailouts.
Unfortunately VPG closed in 2013, stopping production of the MV-1 and leaving disabled car buyers without a purpose built vehicle once again.
AM General helped design the MV-1 and the van was built at AM General's Indiana plant, so the HMMV builder was perfectly positioned to restart production. AM General expects to sell 5,600 MV-1s this year.
Image via MV-1.