Buy a Car on Black Friday and You Could Find the Best Deals of the Year
If you're in the market for a car, you may want to consider going car shopping next Friday. Car shoppers may be able to find the best deals of the year on Black Friday.
CNNMoney.com spoke to the experts at Truecar.com and their pricing data from the last several years shows that vehicle discounts on Black Friday are the biggest of the year.
Consumers can take advantage of extra savings as dealers try to move out remaining 2009 inventory before the end of the year. Also, Black Friday falls on the last weekend of the month, which is typically a good time to buy, as salespeople are trying to meet their sales quotas for the month. It will be a good day to negotiate and try and get the best price on the vehicle you want.
The average new car discount on the day after Thanksgiving is projected to be 7.5 percent, CNNMoney.com reports. The average discount the day before and after is expected to be a little more than 6 percent. A typical discount on other days is usually 4.7 percent off the MSRP.
Remember to do your research online before Black Friday to find out the dealer invoice price on the cars you're considering. Also, doing your auto loan or lease research before heading to the dealer can save you money when it comes time to negotiate the vehicle's financing. Check with your local credit union or apply online to get pre-approved for the car loan. When you're at the dealership, see if they can beat the offer you were already pre-approved for.
If you plan on car shopping on Black Friday, the good thing about it is that you can wake up super early, wait in line at whatever stores you plan on hitting, and then head to the dealership in the afternoon. You most likely won't have to wait hours in line to test drive a car. Or you can simply avoid the retail stores altogether and head to the dealerships in the morning while everyone else is freezing their toes off waiting in line to buy a TV or the season's hottest toy.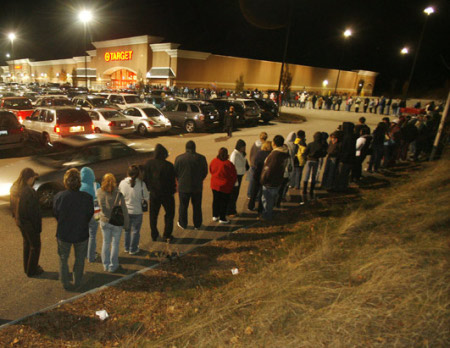 If you don't want to spend the day after Thanksgiving waiting hours in line at your local retail store, you may want to head to your local car dealership instead to score some great deals on a car, truck or SUV.
Image from ABC News via teentechblog.com.