Ford, VW, Subaru Earn Most "Top Safety Picks"
Nineteen cars and eight SUVs were named "top safety picks" by the Insurance Institute for Highway Safety Wednesday. The automakers with the most vehicles listed were Ford, Subaru and Volkswagen.
The IIHS's number of 2010 model year winners is noticeably less than 2009's 94 winners due to tougher requirements for roof strength, the AP reports.
Ford and Volvo received the most awards with six, followed by Subaru with five and Volkswagen and Audi also with five. Chrysler received four awards followed by Honda and General Motors, each with two.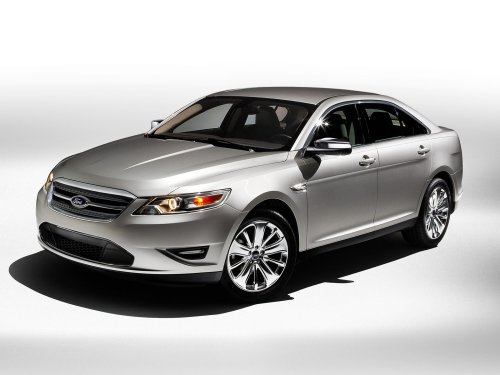 The 2010 Ford Taurus was named one of the "top safety picks" by the IIHS.
Surprisingly for 2010, Toyota, BMW, Mazda and Mitsubishi were shut out and received no awards from the IIHS.
The Ford Taurus, Lincoln MKS, Volvo S80 and C30 cars and the XC60 and XC90 SUVs all received "top safety pick" awards.
Subaru took home awards for its Legacy, Outback and Impreza cars and Tribeca and Forester SUVs. Subaru was the only automaker with an IIHS winner in all four vehicle classes in which it competes.
"We are extremely pleased to be the only manufacturer with all vehicles named a 'top safety pick,' said Tom Doll, executive vice president and COO, Subaru of America, Inc. "This is an outstanding success and a tribute to the engineering that goes into Subaru products."
Volkswagen's winners include the Jetta, Passat and Golf, the Audi A3 and the Volkswagen Tiguan.
The Chrysler Sebring and Dodge Avenger sedans with optional electronic stability control, Dodge Journey SUV and Jeep Patriot with optional side thorax air bags all won awards.
GM's Buick LaCrosse and Chevrolet Malibu won "top safety pick" awards. Honda won for its Civic sedan with optional electronic stability control and Honda Element.
Other vehicles that took home awards were the Nissan Cube, Kia Soul and Mercedes C Class.
The winners were chosen based on protecting motorists in front, side and rear crash tests. Vehicles are required to have electronic stability control to qualify.