Californians Can Now Buy GM Vehicles on eBay
If you live in California, you can now purchase a GM vehicle on the Internet auction site eBay. Starting Tuesday, more than 225 GM dealers in California will sell vehicles through eBay in a four-week trial.
Car shoppers can bid on the GM vehicle they want on eBay, like they would for any other product on the site. When the bidding ends, the winning bidder must then go the dealership to finalize the paperwork, auto loan and down payment.
If the price looks good, buyers can also use the "buy it now" option, instead of trying to out-bid another shopper.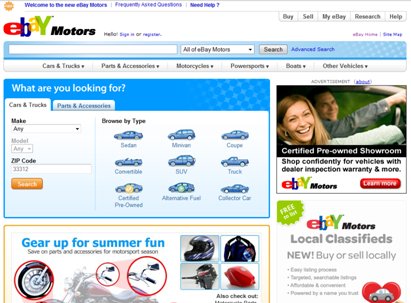 Consumers can shop for 2008, 2009 and 2010 Chevrolet, Buick, GMC and Pontiac vehicles, CNN Money reports. Buyers simply go to www.gm.ebay.com to view about 20,000 new GM vehicles at "competitive prices," the companies said in a press release. The online buying program runs from August 11 to Sept. 8.
In the past, GM has sold some new and certified-used vehicles through eBay. The new program is on a much larger scale. If you're a car shopper who hates to go to the dealer or is simply too busy to shop around at several dealers, this method of car shopping will probably appeal to you.
You still can negotiate a good deal on a new GM vehicle without even having to leave your house. There's no word yet on if GM will extend the program to other states.
"Through this program, we are helping GM dealers to extend their physical showroom while at the same time delivering to our buyers the great deals and broad selection they expect from eBay," said Rob Chesney, vice president of eBay Motors.