Car Shopper Says Buy-Here-Pay-Here Experience Was Surprisingly Enjoyable
When you have bad credit and need a car, you don't necessarily have your pick of the litter. Car shoppers with bad credit have to buy a car where they can get approved for a car loan.
We talked to Dan Miller, an airline baggage handler in the West Palm Beach, Fla. area, about his recent experience buying a used vehicle from a buy-here-pay-here dealership. Dan found that the whole process was unexpectedly straightforward and trouble-free.
AutoLoanDaily: Why were you in the market for a new vehicle?
Dan: I had a 2001 Jeep Wrangler that was paid-off. In the past six months, it broke down four times. Each time it broke down, it cost me about $1,100 to fix. It kept overheating and I was nervous to drive it. After the last time I fixed it, I decided it was time to sell it, since the whole point of having a paid-off car is to save money, and I was spending a ton of money fixing it. I found a cash buyer and sold it to him for $6,000. Even though the Jeep was worth about $8,000 or $9,000, I was happy with the $6,000 I received for it.
AutoLoanDaily: Once you sold your Jeep Wrangler, how long did it take you to find a new vehicle?
Dan: I sold the Jeep on a Thursday night and I couldn't go look at cars until Saturday, so I just took a cab to and from work that Friday. Early Saturday morning, I went online to do some research for used vehicles in the area. I looked up vehicles on Autotrader.com, Cars.com and Craigslist.org. When I found something I liked, I went to Kelley Blue Book's Web site to see the value of the used vehicle. I knew I wanted to buy something that day.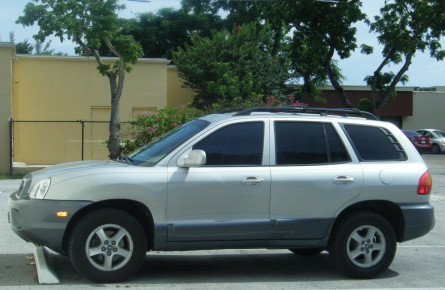 Dan found the car that was right for his budget by going through a buy-here-pay-here dealership.
AutoLoanDaily: Did you visit any traditional car dealerships?
Dan: I was limited on time, so I chose not to go to a regular dealer because I knew my credit was really bad and I didn't want to waste time at a dealer just to get rejected for the auto loan. My credit score is in the mid to low 500's, so I knew my options were limited. I was looking more for a private party sale or a used car lot vehicle.
I did actually view some used vehicles on a few regular dealers' Web sites. When I called the dealers to ask about the vehicle, they wouldn't give me any information over the phone. All they kept telling me was to come in and that they would take care of me. Since I was pressed for time and was using a taxi to get around, I wanted to talk to a dealer that would answer my questions over the phone.
AutoLoanDaily: How did you end up deciding on a buy-here-pay-here dealership?
Dan: I did a search on Craigslist for "owner financing" and that's how I found the dealer I bought my SUV from. I saw a used Mercedes-Benz advertised and although I didn't need a Mercedes, the payments looked good. I was very nervous about going to a buy-here-pay-here dealer, especially since I bought my last two vehicles with a car loan from Capital One, where they send you a blank check for the vehicle and you make payments to them.
I have a friend who bought her last three cars through a buy-here-pay-here dealership and she said all three were good experiences. I called this dealer several times and the reason I chose him was that he answered all my questions and was very helpful. I had a lot of questions about how the process works, since I've never bought through this kind of dealer before. He never made me feel like I was annoying him.
AutoLoanDaily: What did the dealer tell you to bring with you to buy a vehicle that day?
Dan: He told me that there was no credit check. He said $2,000 down was the "magical number" to get me into a car. He also said I'd need to bring my current insurance card, driver's license, two pay stubs and a utility bill. His dealership transfers the current registration to the new vehicle for you, so that saved me some money. I also had to list three references not living with me on my application.
AutoLoanDaily: How was your experience when you got to the lot?
Dan: I walked the lot and saw the Mercedes from the online ad, but I just figured there was something major wrong with it, considering the price was so low. I found a 2004 Hyundai Santa Fe with about 50,000 miles on it. It had a CD player and power everything. I have two dogs, so I knew I really wanted an SUV with enough room for them. I test drove it and loved it.
I didn't like the other cars he had on the lot and it had everything I wanted, so I decided on the Santa Fe. I'm a typical guy when it comes to shopping. I know what I want and when I find it, I buy it and get out fast.
They showed me the Carfax report, which came up fine. I asked them to pull up the KBB value on the vehicle and they did. The price they wanted was only a couple hundred dollars more than the KBB price, so I thought the price was fair. I didn't negotiate the price at all.
AutoLoanDaily: Now that you found an SUV you liked and you were happy with the price, how did you negotiate the auto loan?
Dan: The way they do the loan payments is different from a traditional car loan. They wanted me to pay $300 every two weeks for 18 months. I told them I needed to be at $200 every two weeks for 18 months to afford the vehicle.
They were able to get me to those payments by making me pay two larger "pick-up payments". The first one is at the six month mark, where I'll have to pay about $1,200. The second one is at the one-year mark, where I'll have another large payment.
AutoLoanDaily: What annual percentage rate did they give you?
Dan: Since there's no credit check, the interest is built into the bi-weekly payment amount. I'm sure I'm paying more than 10%.
AutoLoanDaily: Does the dealership report your payments to the three major credit bureaus?
Dan: No, and I wish they would. They report a repossession if you don't pay. But, in my situation, I couldn't be picky. I had to buy from a place that would approve me to make payments. I'd like to look into maybe a refinance auto loan in the near future to pay off my buy-here-pay-here loan, that way the payments get reported to the credit bureaus to help increase my credit score.
AutoLoanDaily: Were there any add-ons or incentives with the SUV purchase?
Dan: They gave me a 30-day bumper-to-bumper warranty included in the price. If after 30 days something goes wrong, they'll finance the repair charges. They also offer a deal if you buy your next car from them. They use the equity left in the vehicle once it's paid off for your next down payment when you trade it in with them.
The payment program is designed to get you into a decent car and be able to have a little equity in it when you're done making payments.
AutoLoanDaily: What didn't you like about buying through a buy-here-pay-here dealership?
Dan: I didn't like that they don't report my payments to the credit bureaus. I am scared of the pick-up payments, but I got a reliable car that's affordable.
AutoLoanDaily: What did you like about the buy-here-pay-here process?
Dan: The paperwork was very simple to fill out and understand. I like that there will be some equity in the vehicle when I've paid it off. I saw that the tires were pretty worn, and when I asked about it, they agreed to put four new tires on for me at no cost.
Going through a buy-here-pay-here dealership is not a good option if you have good credit, but this worked for me in my situation. It was a good experience, even though it was new for me and I was a little nervous about the whole thing. I was in and out with my new SUV in three hours.
At the end of the day, I got a car I love and the process was easy. I didn't know what to expect, but in the end, it was painless.
Copyright © 2009 AutoLoanDaily.com. All rights reserved. This material may not be published, rewritten or redistributed without permission.