CARS Program Officially Begins Monday, But Many Dealers Have Already Started
According to cars.gov, the official government Web site for the cash for clunkers program, consumers can start taking advantage of the rebate Monday, July 27.
But dealers who have been looking forward to the incentive to help boost sales aren't waiting until then. A lot of dealers have already started giving car shoppers the $3,500 to $4,500 incentive to trade-in their clunkers.
Dealerships are definitely going to take advantage of the weekend to promote the cash for clunkers program and sell vehicles, even if buyers who plan on using the CARS program are only looking.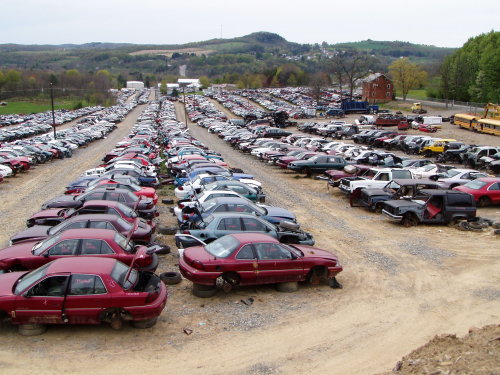 The government's CARS program hopes to get a lot of clunkers off the road and sent to be crushed or shredded.
Results from a nationwide Dealix survey conducted this week show that three out of 10 dealers report having made a sale involving a cash for clunkers voucher even though it doesn't officially begin until Monday.
The survey also found that 68% of respondents reported an increase in traffic to their showrooms, and 65% reported an increase in interest online. More than 90% reported consumer interest, with 34% saying that buyers have shown "a lot" of interest in the program, and 56% reported that consumers have shown "some" interest.
"The CARS Act promises to help the nation's dealers and is clearly already producing results for some," Anna Zornosa, general manager of Dealix, said in a statement.
Since there is only $1 billion in available funds for consumers to trade-in their clunkers, it's not surprising that dealers aren't waiting to start using the rebate to help sell cars.
Are you a car shopper who plans on heading to the dealer this weekend or next week to take advantage of the cash for clunkers program? Leave us a comment below and let us know your thoughts.