Chevy Colorado Diesel Will Be Pulling Stumps Within A Year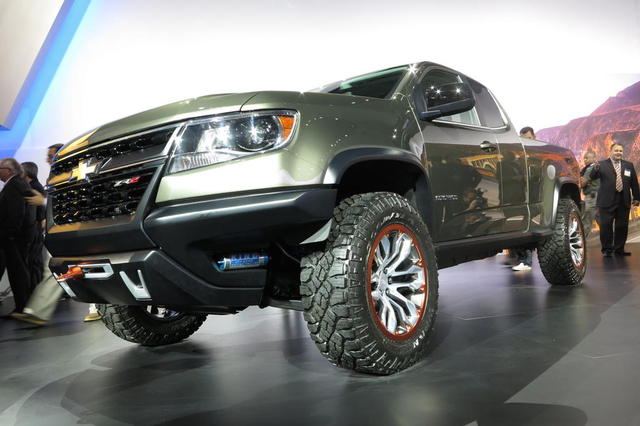 Fuel economy is a major concern for truck buyers, even with gas prices dropping. Ford is making waves with its new aluminum body F-150 and Dodge has released a diesel Ram 1500, so now it's Chevy's turn to call show its hand. The new 2015 Chevy Colorado midsized truck already has a 27-mpg highway rating with the four-cylinder engine and now an even more efficient (and powerful) diesel will be available.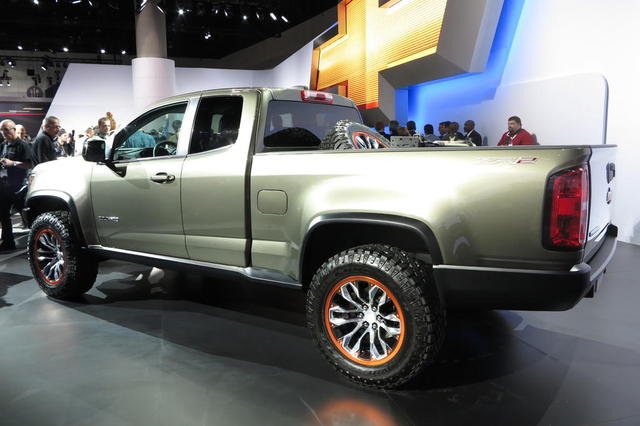 The Chevy Colorado will get a Duramax 2.8-liter four-cylinder diesel within the next year, according to The Truth About Cars. The 2.8-liter diesel Colorado will have 181-horsepower and 369 lb-ft of torque. The Colorado diesel's 369 lb-ft of torque will easily give the Colorado more pulling power than the Toyota Tacoma V6's 266 lb-ft of torque or the Nissan Frontier V6's 281 lb-ft.
The Colorado's Duramax diesel debuted at the LA Auto Show in the Colorado ZR2 concept truck. The Colorado ZR2, like the S10 ZR2 and Blazer ZR2 of the 1990s and 2000s, is an offroad ready truck with a higher stance (thanks to King coilovers) wider fenders (by four inches this time). Under the truck, front and rear skid plates will keep the mechanical bits from falling off and locking rear differentials will keep the ZR2 moving.
Images via The Truth About Cars