Chevy Silverado Cheyenne Sport Truck Concept Shown Off At SEMA
Chevy will debut a concept sport truck built out of the Silverado 1500 at SEMA this year. The high performance Silverado will be called the Cheyenne and will have 65-horsepower more than a standard Silverado 1500.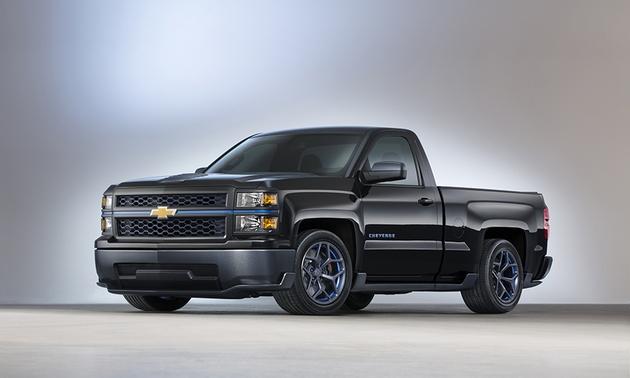 Even though it will be one of the most mild customs at SEMA this year, the Silverado Cheyenne concept has an aggressive look for a production truck with a full body kit and 19-inch Camaro Z/28 wheels. The Silverado Cheyenne will use the 420-horsepower, 6.2-liter V8 along with a center mounted Borla exhaust and Brembo brakes. The Silverado Cheyenne gets 200-lbs of weight savings from removing the trailer hitch, spare tire, center console and some sound deadening as well as swapping the bumpers, tailgate and inner cargo box with carbon fiber. With only 200-lbs saved, it seems like the carbon fiber is mostly for looks.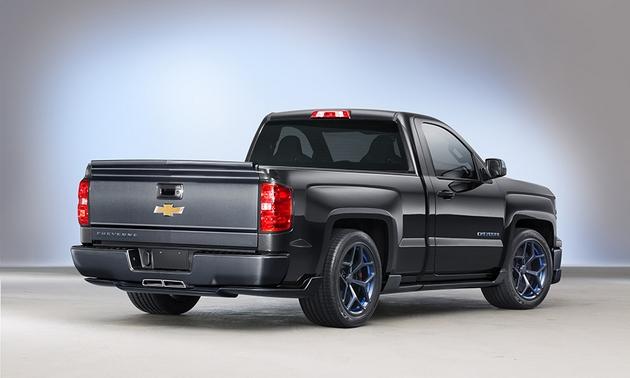 With Ford selling the Raptor offroad truck in lieu of a street-oriented truck like the discontinued F-150 Lightning, there are no all-out performance trucks available right now. The closest things available are simply regular cab short bed trucks available with powerful engines like the Ram 1500 Express or the Ford F-150 Tremor. A sport truck with real changes to aid performance like the Chevy Silverado Cheyenne would be a bit of an upgrade over those competitors, but a lack of a tow hitch might turn some buyers away.
Source: Autoweek.