Chrysler Closing 789 Dealerships
As part of Chrysler's bankruptcy filing, the automaker says it will eliminate 789 of its 3,181 dealerships in the U.S. Chrysler said in a court filing Thursday that the dealer network is antiquated and has too many stores competing with each other, the AP reports.
Chrysler said many of its dealers' sales are too low and that only about 50 percent of its dealers account for about 90 percent of the company's U.S. sales.
In a story we reported Wednesday, closing this many dealerships will have a big impact on local towns and communities and will also have a trickle-down effect on local businesses and economies. Thousands of employees are expected to lose their jobs as a result of the closures.
"In addition, as suburbs grew and the modern interstate system continued to evolve, longstanding dealerships no longer were in the best or growing locations," Chrysler said in its filing. "Many rural locations also served a diminishing population of potential consumers. Some dealership facilities became outdated. Other locations faced declining traffic count and declining populations."
A number of Chrysler dealers have formed a committee and hired lawyers to fight the closures and try to keep their franchises.
"It is with a deep sense of sadness that we must take steps to end some of our sales and service dealer agreements," said Steven Landry, Chrysler executive vice president, North American sales and marketing, global service and parts. "The decision, though difficult, was based on a data-driven matrix that assessed a number of key metrics. In total, 789 dealers, which represents 14 percent of our sales volume, will be rejected and, subject to the court approval, they will discontinue selling Dodge, Chrysler or Jeep vehicles on or about June 9."
Click here for a complete PDF list of the Chrysler dealers that are slated to close. (via CNN)
General Motors is also expected to notify 1,100 dealers this week that it will not renew their franchise agreements when they expire at the end of September, 2010.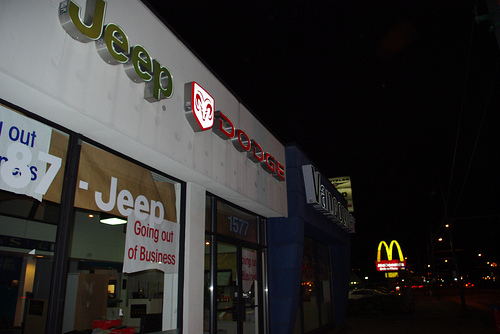 A Chrysler, Jeep, Dodge dealership in Vancouver has signs that show it is going out of business and closing.
Image via themarina on flickr.