Chrysler Splits Dodge Into Two Separate Brands
Now that Chrysler is being run by Fiat, there are big changes happening. Chrysler's bold, sporty brand, Dodge, will be split into two brands. Dodge cars will be one brand, while Ram trucks will be the second.
"The brand-focused strategy has been refined further with the unbundling of the Dodge brand which now consists of the Dodge Ram brand and the Dodge car brand organizations," Chrysler Group CEO Sergio Marchionne said in statement Monday. "This reorganization will allow us to protect and develop the unique nature of the product offerings within the Dodge Brand."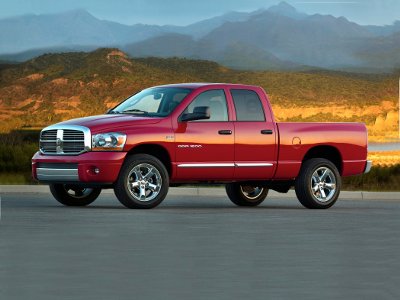 The Dodge Ram truck will become its own brand, Ram trucks, after Chrysler split the Dodge brand into a separate car and truck brand.
Chrysler's lead designer, Ralph Gilles, will be the new president and CEO of the Dodge car brand, CNNMoney.com reports, and will continue to lead product design for Chrysler. Gilles joined Chrysler in 1992 and helped design many of the automaker's most iconic products, including the Chrysler 300.
Fred Diaz, Jr., the former head of Chrysler Group's Denver business center, has been named president and CEO of the Dodge Ram brand. He will also head the sales department at Chrysler Group.
The new brand presidents come amid a management restructuring at Chrysler. No longer at Chrysler is Peter Fong, who ran the Chrysler brand and was in charge of sales for all the brands. Chrysler said Fong resigned for personal reasons. Dodge brand CEO Mike Accavitti has left the company "to pursue other interests," the company said in a statement.
The Dodge Ram truck undoubtedly is one of Chrysler's best-selling vehicles. But will making the Ram its own brand help Chrysler sell more trucks?
As a former owner of a Dodge Stratus coupe, I can tell you that Dodge's current car offerings are nowhere near as fun to drive or visibly appealing as they used to be several years ago. The new Dodge cars brand will be redesigned eventually to become a mainstream version of Fiat's Alfa Romeo unit, USA Today reports.