Congress Asks For More Car Loan and Auto Industry Aid From TALF
Thirteen members of Congress sent a letter to Federal Reserve Board Chairman Ben Bernanke and Treasury Secretary Timothy Geithner yesterday that requests more auto industry relief from the Term Asset-Backed Securities Loan Facility, according to SubPrime Auto Finance News.
SubPrime Auto Finance News says it obtained a copy of the letter, which reads, "As you know, the ongoing global financial crisis has had a particularly damaging effect on the American automobile industry. We applaud the joint efforts of the Federal Reserve Board and the Department of Treasury to promote liquidity in consumer loan markets through the
Term Asset-Backed Securities Loan Facility
. However, we are concerned that the program may not sufficiently address the problems facing the domestic automobile industry."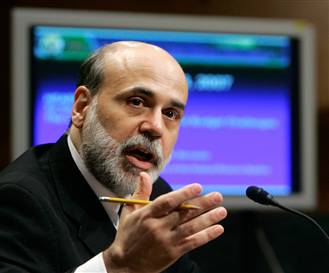 Fed Chairman Ben Bernanke will reportedly consider more auto industry relief from the TALF.
The letter also reportedly addresses the need for more accessible floor-planning securitization assistance, also known as the ability for dealers to finance car inventory purchases.
The letter also reportedly reads, "We appreciate Federal Reserve Chairman Bernanke's recent statement that he is willing to revisit this issue. Given the urgent nature of the crisis in the motor vehicle industries, we encourage you to consider finding a way to ensure adequate financing for dealer floor plans as soon as possible."
Is more auto loan and inventory financing assistance on the way? The more money lenders are given, the more car loans can be given to consumers and the more cars can be sold.
Image via media.sacbee.com.