As Credit Crunch Affects More People, Non-traditional Dealerships Might be an Option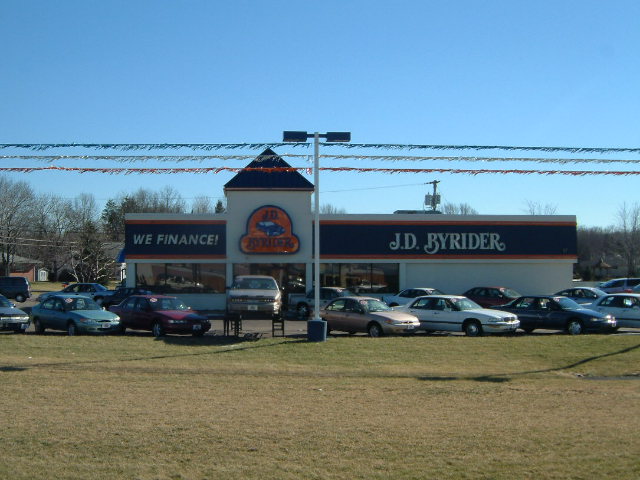 Hundreds of thousands of people lost their homes to foreclosure in 2007. Thousands were laid off from their companies. Soaring gas and food prices have hit consumers' wallets hard.
In the midst of all this economic mess, so many people have damaged their credit. So let's say that someone needs a car to get to work, or their current car recently died or was totaled in an accident.
If they know their credit isn't up to par, or it just plain stinks, what are they supposed to do? They need to buy a car but no dealer will approve them for financing.
Some car buyers in this situation try out a non-traditional car dealership to get financed for a vehicle.
Mark Hughes, Portfolio Manager for J.D. Byrider in Hermitage, Pa. sees customers come in with a variety of financial set-backs.
"Our clients have had repossessions of cars, houses, bills not paid and bankruptcies," Hughes says. "They can't get traditional financing for a car and they need a vehicle to get to and from work. We fill in that gap."
---
For a lot of car shoppers, a dealership like J.D. Byrider is an option after they've been turned down for an auto loan somewhere else.
"If you lose a vehicle through repossession, no traditional dealer will help you," Hughes says. "People think that repossessions can't hurt their credit."
Because of the sub-prime mortgage fallout and so many Americans defaulting on loans, lenders right now are more reluctant to loan money. Lenders are tightening their requirements to qualify for mortgages, home equity loans, student loans and auto loans.
At a traditional dealer, it used to be that you only needed a credit score of about 450 to get a loan, Hughes says. Now, you need a credit score of at least 600 to even be considered, he explains.
"A lot of people coming in to our dealership now are those who went through a traditional dealer for their last car, but now can't qualify," he says.
This is a new trend in the auto financing industry and is increasing as more consumers are experiencing problems with their credit.
J.D. Byrider has developed a program with a goal in mind to help customers improve their FICO score by getting an auto loan through their company.
"We deal with high risk customers," says Hughes. "We don't even look at their credit scores. We don't concern ourselves with that. We're here to give people a second chance with their credit. We can finance almost anyone, but there are some who won't qualify."
"They aren't buying a car, they're buying a program," Hughes explains.
The program is meant to help them increase their credit score and the car is just a benefit. Here's how it works.
Customers come into a J.D. Byrider and before even looking at any cars, they sit down with the finance department. The program is explained to them and they outline a budget with the finance department to see what car payment they can handle.
Because they are considered "high-risk", these auto loan customers usually get financed with an interest rate of about 21 percent.
Then, they go through an interview process, which Hughes says holds a lot of weight. They find out the customer's income level, monthly expenses, etc. Then they can look at only the cars that fit in their budget.
"We set them up for success by getting them into a good, reliable vehicle," Hughes says. "We want to keep them on the right path. We won't sell them a car if they can't afford it."
A lot of times, if customers with less-than-perfect credit buy a car from the neighborhood corner lot, there is no warranty. So if the car breaks down shortly after purchase, it's often hard to pay for the repairs, which can be extensive on an older car.
Even though J.D. Byrider's vehicles are mostly five to 10 years old, they all come with a 36,000 mile or 36 month additional warranty.
Hughes says that the company puts about $2,000 into every car before they sell it. He also says that roadside assistance comes with their vehicles and zero percent financing is available for repairs if the car breaks down.
Hughes says that the best part of helping his customers is that after they fix their credit by purchasing a car from his dealership, they can get financed to buy houses and even cars at a traditional dealership.
Copyright 2008 AutoLoanDaily.com. All rights reserved. This material may not be published, rewritten or redistributed without permission.