Eli Manning's Super Bowl MVP Cadillac Escalade Hybrid
New York Giants quarterback Eli Manning led his team to a 17-14 upset over the New England Patriots in last year's Super Bowl. As the MVP of the game, Manning was awarded his pick of any Cadillac vehicle. Manning chose an Escalade Hybrid, and received one of the first to roll off the assembly line.
Eli Manning's choice was a pretty good one. The Cadillac Escalade Hybrid combines the luxury you'd expect from an Escalade with a hybrid power train that gets 20 mpg in the city.
Eli Manning got his Escalade Hybrid for free, but if you want to roll in style like the Super Bowl 42 MVP, it will cost you $74,465.  Factoring in a 20% down payment, 8% sales tax and a four-year loan at 6.5% interest, you could be driving a new Cadillac Escalade Hybrid for just $1,340.37 each month.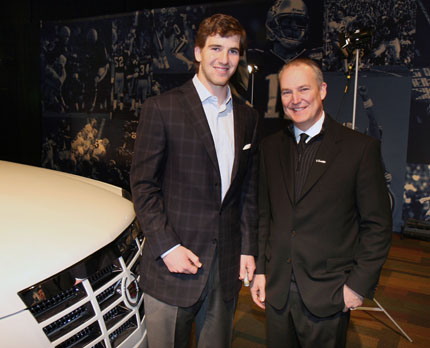 Eli Manning receiving the keys to his 2009 Cadillac Escalade Hybrid with Cadillac General Manager Jim Taylor.