Eva Longoria Got a Tesla Model S as a Christmas Present
Eva Longoria recently picked up a Tesla Model S electric car. The Tesla Model S costs $63,570, which shouldn't be too much of a stretch for the Desperate Housewives star. The Model S is available with a range of up to 265 miles and can do 0-60 in 4.2 seconds with a 130-mph top speed.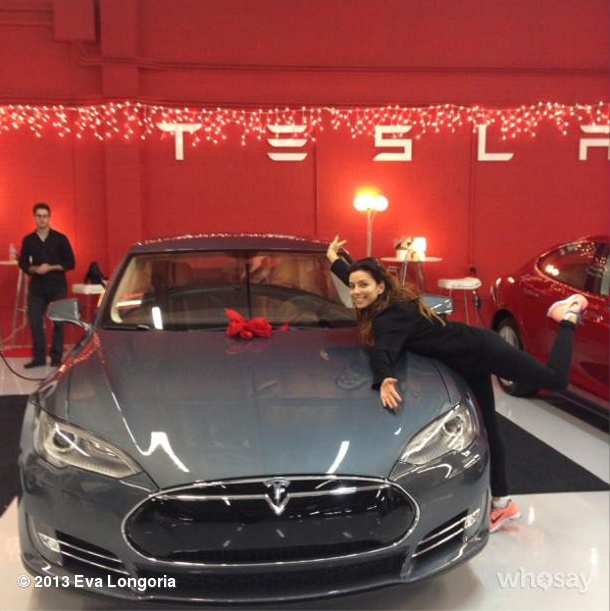 Last month Eva Longoria posted this picture to her Instagram with the caption "Christmas came early for me! Got my new electric car!!! #Tesla."
The Model S is also one of the only modern cars that has a rear-facing third row seat. The only other car currently sold that I can find with a rear-facing third row seat is the 2014 Mercedes-Benz E350 Wagon.
The rear-facing third row seat may be the best lost feature on modern day cars. Pop up headlights were cool, and simplicity-oriented folks might miss the days of roll up windows, but if you can remember having your car's lights stay hidden at night or having to reach back to the rear passenger window during a sudden storm on the highway, your nostalgia for those features is probably dampened. The backwards rear seat, however, opened up a whole new way to see the world. I owned a 1993 Buick Roadmaster for a year and a half recently and it was immensely popular with my friends, not just because it seated eight and halved the number of designated drivers needed for a night out. I've owned fast cars, large and small, an offroad truck of questionable legality and unquestionable safety and and a classic convertible, but the only car that anyone ever asked to ride in was the Roadmaster, sometimes just because it was comically large but usually to sit in the "way back."
So good on Eva Longoria for picking up a new car with a rearward facing seat, even though that probably wasn't the deciding factor in her purchase.
Image via Instagram.